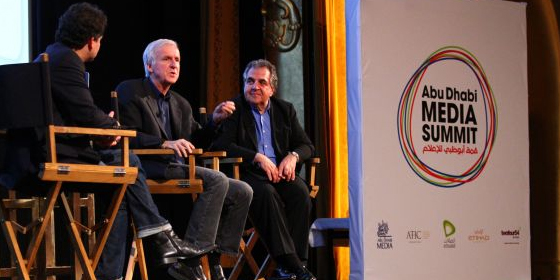 Earlier this year the Abu Dhabi Media Summit took place with some key Hollywood figures talking about issues facing the industry.
Firstly, director James Cameron spoke with News Corp's European CEO James Murdoch about a variety of topics affecting the film business including:
The future of 3D
Technology and risk taking
The nature of business in Hollywood
Dealing with crisis
Exploration and the environment
The future of entertainment
Breaking down the barriers of reality and film
The conversation runs for 41 minutes and can be seen here:
The second panel was called 'Hollywood Power Shifts' and dealt with the wider issues facing the entertainment business.
Hosted by Dan Sabbagh of The Guardian, the guests included: Mohammed Al Mubarak (Chairman, Imagenation Abu Dhabi); Skip Brittenham (Senior Partner and Founder, Ziffren, Brittenham LLP); Ari Emanuel (Co-CEO WME Entertainment); Jim Gianopulos (Co-chairman & CEO, Fox Filmed Entertainment) and Walter Parkes (Former DreamWorks president and currently co-head of Parkes-MacDonald Productions).
The discussion covers:
The relationship between the consumers and content
Piracy and the role of Internet Service Providers
How social media affects studio marketing
Sequels and remakes
The possible power shift from West to East
How text messaging is helping movies with subtitles
How Muslim culture is represented in Hollywood movies
The changing nature of content (movies, TV and the web)
Brands and movies
Skip to 6.05 to get to the discussion:
There is was also an interesting talk called 'Content and the Cloud' by Charlie Boswell (Director of Digital Media and Entertainment at AMD) and Jules Urbach (Founder and CEO, OTOY).
They discuss how how filmmakers and game companies can benefit from using cloud technology to make and deliver content.
Although it may seem a little technical, the implications of what they say could be profound for movie studios and games companies.
They discuss how:
Production houses can shift heavy duty work to the cloud (e.g. Avatar and The Social Network)
How the cloud could revolutionise how movie studios deliver content
The possible end of optical discs (DVD and Blu-ray) and the rise of streaming via the cloud
Bandwidth issues
The relationship between games and movies
Given the direction Apple are moving in with iCloud, this is an area worth watching closely.
> YouTube channel for the 2011 Summit
> More on the Abu Dhabi Media Summit at Wikipedia