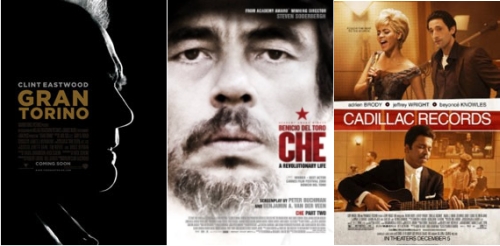 NATIONAL RELEASES
Gran Torino (Warner Bros.): Just 3 months after Changeling opened at UK cinemas Clint Eastwood returns with another film, which he directs and stars in. The story is about a disgruntled Korean War vet (Eastwood) who sets out to reform his neighbour, a young Hmong teenager (Bee Vang), who tried to steal his vintage 1972 Gran Torino car.
Although this project came together quickly, it is a lean and satisfying tale told with Eastwood's customary efficiency and class. It would be safe to categorise it as a drama, but there are some very funny sequences, mostly involving the culture clash between Eastwood's gruff character and his immigrant neighbours.
There are times when the film skates on thin ice when dealing with the issue of race, but Eastwood and screenwriter Nick Schenk deserve credit for venturing in territory that most Hollywood execs wouldn't touch with a bargepole.
It is a pleasingly old fashioned drama of simple pleasures and a fitting swansong for the iconic tough guy persona Eastwood has owned for a generation.
For some reason Warner Bros are doing a platform release in London before going nationwide next week (perhaps they were hoping for Oscar nominations that didn't materialise?) when it can expect to do decent, if unspectacular business. [Cert 15 / Vue West End – Nationwide from 27 February]
Che Part Two (Optimum Releasing): The second part of Steven Soderbergh's Che biopic focuses on his futile attempt to bring revolution to Bolivia and eventual ill-fated demise.
When viewed as two films I have to admit a preference for the vibrancy and sweep of Part One, but there is much to recommend in this darker second segment.
Benicio Del Toro is still splendid as the revolutionary icon and the wide-screen lensing of the first part is replaced with a more claustrophobic shooting style – it was shot on the 1:85 ratio instead of the wider 2:35 format.
Although some critics have found both films a little dry, Soderbergh deserves a great deal of credit for the authenticity and audacity of this project – a testament to the director's ability to mix his successful Hollywood career with more intriguing work.
For a foreign laguage film, Part One did well early in January (helped by some Film Coucil money enabling a wider release) and Part Two can expect to do similar business. [Cert 15 / Cineworld Wandsworth, Odeon Covent Garden, Vue Shepherd's Bush & Nationwide]
Cadillac Records (Sony Pictures): A biopic written and directed by Darnell Martin that explores the musical era from the early 1940s to the late 1960s, chronicling the life of the influential Chicago-based record-company executive Leonard Chess, and the singers who recorded for Chess Records.
The cast includes Adrien Brody as Chess, Cedric the Entertainer as Willie Dixon, Mos Def as Chuck Berry, Columbus Short as Little Walter, Jeffrey Wright as Muddy Waters, and Beyoncé Knowles as Etta James.
Although this has a starry cast and got favourable US reviews, it may struggle to find a sizeable audience in the UK. It may be that a more appreciative audience discovers the film on DVD and TV in the future. [Cert 15 / Odeon Panton St, C'Worlds Enfield, Feltham, Wandsworth & Nationwide]
Confessions Of A Shopaholic (Walt Disney): Disney execs who greenlit this film must have been kicking themselves when Wall Street and modern consumer capitalism started to implode last Autumn.
Why? Well, this is a film based on the chick-lit novel by Sophie Kinsella about young woman (Isla Fisher) who moves to Manhattan in order to nurture her shopping addiction and get involved in the New York magazine world.
Directed by P. J. Hogan, it also stars John Goodman and Joan Cusack as her parents and was probably rushed into production when The Devil Wears Prada became a hit.
This might seem like a bad time to be releasing such a film, but perhaps reverse psychology and a desperate need for escapism might help it to a better than expected gross. [Cert PG / Vue West End & Nationwide]
Push (Icon): This sci-fi thriller about a group of young American ex-pats with telekinetic and clairvoyant abilities seems to bear some similarities to last year's Jumper.
Directed by Paul McGuigan, it stars Chris Evans, Dakota Fanning, Djimon Hounsou, and Camilla Belle as some of the psychic peoplewho band together to attempt to battle a government agency.
It has already spawned possibly the longest ever ever plot summary on Wikipedia but on a more serious note, the negative US reviews and lack of any real star may hamper its UK box office prospects. [Cert 12A / London & Nationwide]
[ad]
IN LIMITED RELEASE
Anvil! The Story Of Anvil (The Works): An offbeat documentary about a 30-year-old Canadian metal band led by two lifelong friends in their 50's. Directed by Sacha Gervasi it premiered at the Sundance Film Festival in January 2008, and has won Audience Awards at various other festivals since then. [Cert 15 / Curzon Soho & Key Cities]
20th Century Boys (4Digital Asia): A limited run at the ICA Cinema for this live-action take on Naoki Urasawa's ace manga series. [Cert 15 / ICA Cinema & Key Cities]
> UK Cinema Releases for February 2009
> Get the latest showtimes for your local cinema via Google Movies
> Check out our latest DVD picks (W/C Monday 16th February)