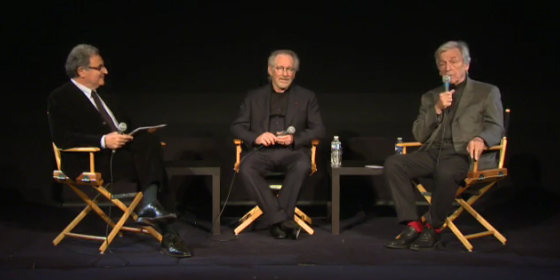 Last month Steven Spielberg sat down for an hour long discussion with Costra-Gavras and Serge Toubiana at La Cinémathèque Francaise.
It was part of the European press tour for War Horse but the length and quality of the conversation made it much more than the usual press junket and red-carpet sound bites (where time is limited).
What made it extra special is that the two guys asking the questions really know their stuff.
Costa-Gavras directed two of the best political dramas ever made in Z (1969) and Missing (1982), whilst Toubiana was was the long time editor of Cahiers du cinéma (1981-1991) and is currently director of La Cinémathèque Française.
Spielberg wrote after the event:
"Not since Cannes in '82 have I been so moved by an audience of lovers. I will never forget today!"
As you can imagine it was a pretty fascinating conversation, which formed part of the Spielberg season they are currently running, which lasts until March 3rd.
Although the questions are asked in French, Spielberg had an earpiece through which quick translations were made, so the conversation flows pretty well.
They never discuss it, but Costa-Gavras' Z (1968) – one of the great films of the 1960s – was a major influence on Spielberg's Munich (2005).
Here is the English version:
(Click here for the French version).
Spielberg starts speaking at around 03.36 and the conversation covers the following:
The 'secret of his success' and the 'nervous energy' that keeps him making movies
Why he made War Horse and how he directed the horses
The influence of John Ford (e.g. the landscape and choosing wide-shots over close-ups)
How he fell down a hole during shooting
Researching World War I at the Imperial War Museum in London
Why he didn't use CGI horses and
Patience as a working tool in working with animals and children
The importance of casting and listening to actors
Using wide-angle lenses in shooting horses and the Devon landscape
His regular 'chameleon collaborators' (e.g. John Williams, Janusz Kaminski and Kathleen Kennedy)
Why his editor Michael Kahn persuaded him to edit Lincoln (2012) on an Avid
He will still shoot on photographic film for the foreseeable future
How he selects film projects
Shooting 3 films in 12 months (The Lost World, Amistad and Saving Private Ryan)
Why John Ford never shot coverage to prevent studio interference
How he got final cut after Jaws (1975) and why it is sometimes dangerous
How Duel (1971) was inspired by an issue of Playboy
Why some of the best writing is now in US cable television (e.g. Boardwalk Empire, Modern Family etc.)
Why he cast Francois Truffaut in Close Encounters of the Third Kind (1977)
How Spielberg helped translate the title of L'Argent de poche to Small Change
Crazy Hollywood sayings like 'product' and 'taking a lunch'
The influence of 9/11 on Minority Report (2002) and War of the Worlds (2005)
Why he became more interested in news and world events after becoming a parent
At 51:32 Costa-Gravas says something which leaves Spielberg speechless in admiration – can any French speakers translate?
The danger in having too much confidence and why a lack of it can be essential
The work of the Shoah Foundation and how some survivors had never talked about their experiences before
Why he shoots on schedule
His work as a producer and studio head
UPDATE: 08/02/12: Richard Brody has provided a translation via Twitter:
@filmdetail "Serge said the word 'wonder' [émerveillement]…You are still the filmmaker who proves that wonder is possible in the cinema."

— Richard Brody (@tnyfrontrow) February 8, 2012
> La Cinémathèque française
> Arte.TV page for the event
> Serge Toubiana's blog about the event (in French but use Google Translate)
> Find out more about Steven Spielberg and Costa-Gavras at Wikipedia