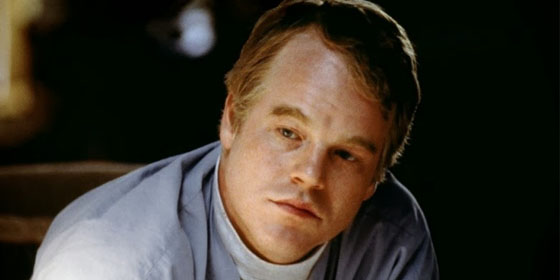 The acclaimed actor passed away in New York yesterday aged 46.
Hoffman was a true modern great, second only perhaps to Daniel Day-Lewis (but far more prolific), who made the breakthrough from a great supporting actor to lead since the late 1990s.
He won the Oscar for Best Actor with his remarkable turn as Truman Capote in Capote (2005) and was also nominated three times for Best Supporting Actor, as well as receiving three Tony nominations for his work on stage.
Although he cropped up in minor roles in movies during the 1990s, such as Scent of a Woman (1992) and Twister (1996), he really started to come into his own with memorable roles in Happiness (1998) and The Talented Mr. Ripley (1999).
But it was his collaborations with writer-director Paul Thomas Anderson that brought him to a wider audience and linger in the memory: the shy boom operator in Boogie Nights (1997); the male nurse in Magnolia (1999); and most recently as a cult leader in The Master (2012).
In the DVD extras for Magnolia there is a 75 minute documentary, which is one of the best of its kind, and one of the highlights is seeing Anderson working with Hoffman.
His smaller roles in Anderson's Hard Eight (1996) and Punch-Drunk Love (2002) were also examples of his working chemistry with the director who seemed to have a special connection with him.
Whilst I wasn't the biggest fan of The Master (2012), he was sensational in it, bringing a unique charm and intensity to the character of Lancaster Dodd.
Hoffman was also a versatile supporting presence in mainstream films like Mission Impossible III (2006) and The Hunger Games: Catching Fire (2013) whilst maintaining his presence in classier fare like Charlie Wilson's War (2007), The Savages (2007), Doubt (2008), Moneyball (2011) and The Ides of March (2011).
Roles in bleaker films such as Love Liza (2002) and Before the Devil Knows You're Dead (2007) hinted at an ability to portray addictive characters, although whether or not this came easily to him, only he will have truly known.
In such a celebrated and varied career (around 50 films), it seems remarkable that he should be gone at the age of 46.
Time will tell what will be seen as his greatest role, though the sheer volume of work makes that difficult.
The obvious pick is Capote, but his role as theatre director Caden Cotard in Synedoche, New York (2008) would be my choice.
Charlie Kaufman's directorial debut was a strange, puzzle-box of a movie but Hoffman's performance was integral to the film, which remains a highly inventive and haunting meditation on how humans age and die.
One can only speculate on Hoffman's inner demons that led him back to drugs and an early death, but for now the world of acting has lost one of its finest practitioners.
> Philip Seymour Hoffman at the IMDb
> Find out more about Philip Seymour Hoffman at Wikipedia