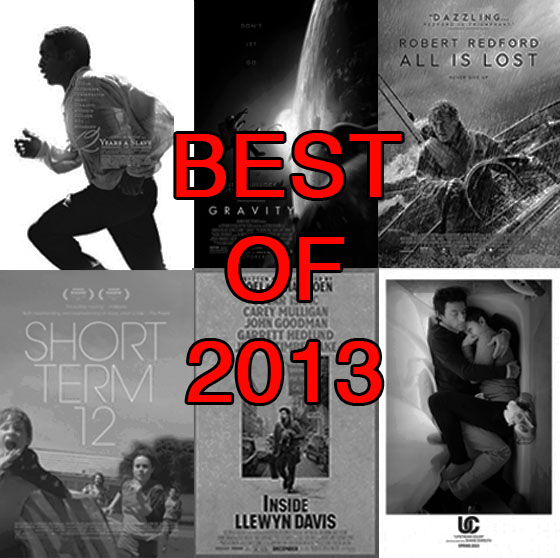 * The following list is in alphabetical order *
12 Years a Slave (Dir. Steve McQueen): The British director brought us a stunning historical drama with its haunting depiction of US slavery. Chiwetel Ejiofor and Michael Fassbender were the highlights of an outstanding ensemble cast.
All is Lost (Dir. J.C. Chandor): Robert Redford alone on a sinking boat provided a multifaceted drama of survival, with Redford's best role in years. After his brilliant debut Margin Call (2011), Chandor is clearly a talent to watch.
Before Midnight (Dir. Richard Linklater): The conclusion (?) to a unique trilogy provided director Richard Linklater and actors Ethan Hawke and Julie Delpy another opportunity to explore their charming characters in another beautiful setting.
Blue Is The Warmest Colour (Dir. Abdellatif Kechiche): An intimate epic of the heart, this year's Palme D'or winner featured two outstanding lead performances (Adèle Exarchopoulos and Léa Seydoux) and a refreshing approach to portraying relationships on screen.
Blue Jasmine (Dir. Woody Allen): The rise and fall of a rich society wife (Cate Blanchett) provided rich pickings for Allen and his superb supporting cast featuring Sally Hawkins, Alec Baldwin and Andrew Dice Clay. A bittersweet treat with a memorable lead performance.
Captain Phillips (Dir. Paul Greengrass): This true life tale of a US tanker captain (Tom Hanks) taken hostage by Somali pirates (led by Barkhad Abdi) was an expertly constructed thriller that also managed to examine the sharp end of globalization.
Enough Said (Dir. Nicole Holofcener): One of the lighter pleasures of the year was a romantic comedy that was both clever and funny. A middle-age romance between two divorcees (Julia Louise Dreyfus and the late James Gandolfini), it contained numerous delights.
Gravity (Dir. Alfonso Cuaron): Perhaps the most ambitious film of the year was this stunning drama, with two astronauts (Sandra Bullock and George Clooney) adrift in space. Cuaron, DP Emmanuel Lubezki and VFX maestro Tim Webber took on screen visuals to another level.
Inside Llewyn Davis (Dir. The Coen Bros): The New York folk scene of 1961 provided the backdrop for this bittersweet tale of a struggling folk singer (Oscar Isaac). Intricately crafted, with a great soundtrack produced by T Bone Burnett and a great cat, this is top-tier Coens.
Nebraska (Dir. Alexander Payne): Another road movie from the director of About Schmidt (2002) and Sideways (2004) provided a great role for veteran Bruce Dern in the twilight of his career. Shot in atmospheric black and white, the supporting cast is also note perfect.
Short Term 12 (Dir. Destin Daniel Cretton): One of the unexpected delights of the year was this beautifully crafted drama set in a foster home. Brie Larson and John Gallagher Jr were excellent in the lead roles but there are many aspects to admire, not least Cretton's direction.
The Act of Killing (Dir. Joshua Oppenheimer): One of the most disturbing and unique documentaries in film history, Oppenheimer secured a remarkable degree of access amongst the former death squads of the Indonesian revolution. A landmark work.
The Great Beauty (Dir. Paolo Sorrentino): Wonderfully rich look at the twilight of the Berlusconi era, with Tony Servillo again proving an excellent foil for his director. As usual for Sorrentino, the visuals and location shooting are of the highest order.
Upstream Colour (Dir. Shane Carruth): Returning from a 9-year absence, Carruth crafted a dazzling puzzlebox of a film, performing multiple duties (acting, writing, directing and music) alongside his impressive co-star Amy Seimetz. Fascinating, complex and brilliant.
HONOURABLE MENTIONS
Philomena (Dir. Stephen Frears)
Iron Man 3 (Dir. Shane Black)
Mystery Road (Dir. Ivan Sven)
The Look of Love (Dir. Michael Winterbottom)
The East (Dir. Zal Batmangajli)
The Wolf of Wall Street (Dir. Martin Scorsese)
> Find out more about the films of 2013 at Wikipedia
> End of year lists at Metacritic