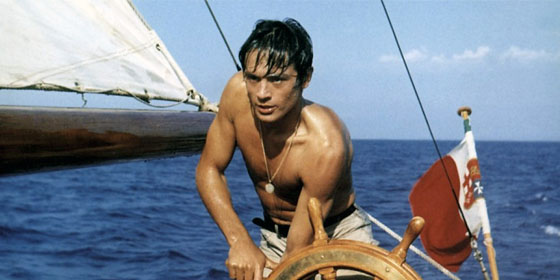 Although later adapted in 1999 by Anthony Minghella, the first film version of Patricia Highsmith's novel The Talented Mr. Ripley was a French adaptation, directed by Rene Clement.
It follows the adventures of Tom Ripley (Alain Delon), hired by the father of rich playboy Phillipe Greenleaf (Maurice Ronet), with instructions to bring his wayward son home from Italy.
But Phillipe, his fiancee Marge (Marie Laforet) and Tom decide to stay in the Mediterranean, divisions start to arise.
Clement made his name as a director just after World War II, with Beyond the Gates (1949) and Forbidden Games (1952), both of which won the Oscar for Best Foreign Film.
Plein Soleil a.k.a Purple Noon (1960) came at an interesting point in world cinema, just as the French New Wave was taking the world by storm with Truffaut's The 400 Blows (1959) and Godard's Breathless (1960).
Some of the younger directors were critics who had derided Clement, most famously Truffaut in his famous diatribe "A Certain Tendency in French Cinema".
Although at that time he was seen as part of the establishment, this could be seen as something of a bridge between the old guard and the up and coming autuers.
Ironically, Plein Soleil was enriched by cinematographer Henri Decae, who had shot Truffaut's landmark debut film the year before.
Here he basks in the vivid colours of the Mediterranean and visually the film is a treat, with Bella Clement's ultra-stylish costumes adding to the mix.
But the really big deal with this film was that it cemented the arrival of Alain Delon as a bona fide movie star, with his smooth charm and young good looks.
He would swiftly become an icon of European cinema with appearances in Visconti's The Leopard (1963), Antonioni's L'Eclisse (1962), and Melville's Le Samourai (1967).
The comparison with Anthony Minghella's 1999 version is fascinating because although Clement arguably captures the spirit of Highsmith's novel better, he fudges the ending (Minghella's was more ambiguous), incurring Highsmith's displeasure.
That said, there is much to feast on here and this UK disc features some notable extras.
BONUS FEATURES
Interview with Alain Delon: A new interview wih the French actor in which he discusses working with Clement and the importance of Plein Soleil in establishing his career. (19 mins)
Rene Clement at the Heart of the New Wave: A documentary by Dominique Maillet focusing on Clement and his legacy featuring interviews with director Jean-Charles Tacchella (Cousin Cousine), actress Brigitte Fossey (Forbidden Games), Alain Delon, film historian Aldo Tassone, director and producer Dominique Delouche (L'homme de désir), assistant cameraman Jean-Paul Schwartz (Purple Noon), producer Renzo Rossellini (Don Giovanni, Death Watch), and costume designer Piero Tosi (The Leopard, The Damned). (67 min).
The Restoration: A short video showing selected scenes in split screen comparing the old footage alongside the new 4K restoration. (5 min).
Plein Soleil is re-released at selected UK cinemas from Friday 30th August and is out on DVD & Blu-ray on Monday 16th September
> Pre-order the Blu-ray at Amazon UK
> Get local showtimes via Google Movies