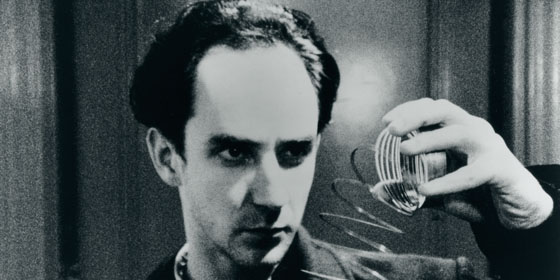 Darren Aronofsky's debut feature about a troubled mathematician is a reminder of his precocious gifts as a writer-director.
Shot in black and white on location in New York, it made a big impact at the Sundance Film Festival in 1998 and fifteen years on still holds up very well.
When the obsessive maths genius Max Cohen (Sean Gullette) becomes involved with a numerical pattern which may or may not explain the patterns of the stock market, he soon attracts the attention of a shady Wall Street firm and a Kabbalah sect, both of whom take an interest in his work.
But his frequent headaches, obsessive nature and paranoia all conspire to drive him to the brink of madness despite the best efforts of his former professor (Mark Margolis) to reign him back.
Made for just $60,000, it heralded the arrival of a precocious talent, who would go on to direct Requiem for a Dream (2000), The Fountain (2006), The Wrestler (2008) and Black Swan (2010).
But there is something special about Pi in the way it completely rejects indie movie clichés to create something distinct and memorable as the protagonist pursues the meaning of an elusive number rather than a one dimensional villain.
It isn't everyday you see a film featuring the Fibonacci sequence and the board game Go, but whilst the subject matter is unusual the film is successful blend of genres (Wikipedia describes it as a "surrealist psychological thriller") which Aronofsky somehow ties together.
Mixing black and white film stocks, unorthodox angles and camera rigs, as well as an excellent sound design by Brian Emrich, we are plunged into Max's neurotic world of migraines, computers and numbers.
The urgency of Clint Mansell's high-tempo electronic score is also brilliantly effective and would mark the start of a long collaboration with the director.
As for the acting, it is on par with the fine work behind the camera: Sean Gullette manages to capture the magnificently tortured soul of Max – a man whose brilliance is only equalled by his mental and physical torment.
In key supporting roles, Mark Margolis as his mentor and Ben Shenkman as a rabbi stand out, whilst Aronofsky makes clever use of extras in exterior locations – especially Chinatown and the New York Subway.
It won the Directing Award at Sundance in 1998 and during the following summer grossed over $3 million, more than making its money back.
More importantly it established Aronofsky firmly on the filmmaking map, although he has kept mainstream Hollywood at an intriguing arms length.
Despite being attached to big studio tentpoles such as Batman: Year Zero (which eventually became Batman Begins) and The Wolverine (later taken over by James Mangold), he has always been drawn back to passion projects like The Wrestler and Black Swan.
Whilst studios such as Fox Searchlight have distributed his recent films films, he has always retained a degree of control on the fringes of the system (his upcoming biblical film about Noah will be interesting as it is co-financed by Paramount, perhaps the most cautious of the major studios).
The roots of that creative defiance can be seen in this 15th anniversary release of his first film, which combines unconventional ideas with technical flair.
SPECIAL FEATURES
Commentary with Darren Aronofsky: A very detailed audio commentary which describes many aspects of the production from set design, camera moves and a whole host behind the scenes info.
Commentary with Sean Gullette: A more considered audio commentary from the lead actor, describing his role and the experience of playing the tortured Max Cohen.
Deleted Scenes: Include a scene where Max gets confronted outside his apartment and one with a slinky that ironically became one of the press images despite the scene not making the final cut.
Behind the scenes montage: An 8-minute featurette shot in colour showing how some scenes were filmed, including one inside Max's apartment and another with the Hasidic Jews, as well as some footage from Sundance 1998.
Theatrical Trailer
Original Trailer
Music Video
> Buy Pi on Blu-ray at Amazon UK
> Official site from 1998
> Darren Aronofsky at the IMDb