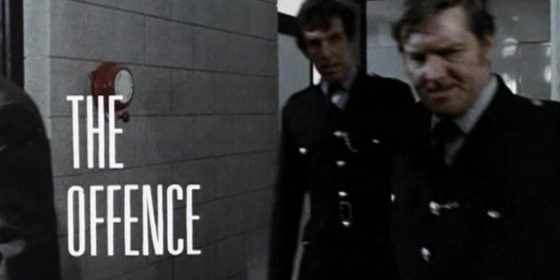 Sidney Lumet's' dark 1972 feature about a police interrogation forms the fourth instalment of my 30-day film program.
For newcomers, the deal is that I must watch a film every day and make notes about it, with the following rules:
It must be a film I've already seen.
I must make notes whilst I'm watching it.
Pauses are allowed but the viewing must all be one session.
It can't be a cinema release.
The point is to capture my instant thoughts about a movie and my overall film diet for 30 days, as well as post interesting links to the film in question.
Here are my notes on The Offence (1972) which I watched on a DVD on Saturday 18th March.
Connery was allowed make this film as part of the MGM deal for DIAMONDS ARE FOREVER (1972)
Lumet keeps the visuals impressively dark – no obvious day-for-night stuff
Great visual motif of the circles of light at the beginning, only becomes clear once you've seen the film.
Drabness of suburban England is expertly evoked but it is never made clear where the action takes place.
The town remains nameless although exteriors were shot in Bracknell and interiors were filmed in Twickenham Studios.
Connery is very good indeed – it was a brave film for him to star in at this point in his career.
Scene at school near the beginning was shot at Wildridings, Bracknell.
Brilliantly effective visuals as the girl goes under the bridge.
Connery's flat is at Point Royal, which is the same place that Jenny Agutter's character lives in I START COUNTING (1969).
Audience are forced to work to see the details in certain scenes.
Trevor Howard is also a powerful presence as a senior police officer brought into to investigate Connery.
Ian Bannen is brilliant in what must have been a very difficult role to play.
Vivienne Merchant also gives a heartbreaking performance as Connery's long suffering wife.
There is dialogue and physical action which even modern writers and directors would shy away from.
It is a rare film that deals with the emotional cost of policing, which is still a taboo subject in a world obsessed with the police procedural.
Clever flashback structure keeps us guessing but the reveal is disturbing because it doesn't offer a conventional twist.