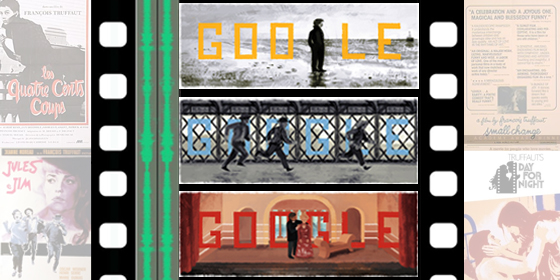 Francois Truffaut would have turned 80 today and this was celebrated with a Google Doodle.
The fact that the world's largest search engine chose to honour the famous French New Wave director with drawings from The 400 Blows (1959), Jules et Jim (1962) and Bed and Board (1970) is really rather cool.
If we could somehow hop in a DeLeoran time machine and inform him of this current celebration, he probably would have been puzzled just by the words 'Google Doodle'.
But surely he would have been thrilled to learn not only are they saluting his films but that today many thousands (millions?) of people will be exposed to them for the first time.
Xan Brooks captures the mood correctly at The Guardian:
"Softer than Godard, warmer than Chabrol, and more meaty than Rohmer, Truffaut was the man who brought the nouvelle-vague to the mainstream; who took cerebral film theory and made it sing"
You know something is up when the sour comments that can lurk beneath posts on The Guardian website suddenly melt into warm appreciation:
"Sometimes it really is nice to read an article about a "luminary" by someone who can, one: write, and two: is a true fan. Xan, this brought a smile to my face on a Monday morning, thank you. When I go home tonight, I think I might mark today by watching one of Truffaut's films."
Only on Friday I was watching – via the magic of bootlegged French television on YouTube – a clip of Truffaut talking to Bernard Pivot and Roman Polanski about his book on Alfred Hitchcock in 1984:
That clip is all the more poignant because it was recorded just months before his untimely death.
The fact that Google and YouTube are currently hosting affectionate and intelligent tributes to his work says a lot about his influence (and the sorry state of arts coverage on UK television).
His published interviews with the master of suspense still stand as one of the best ever documents on the craft of cinema.
Truffaut's book of interviews with Alfred Hitchcock is still one of the best ever published about cinema amzn.to/vYZajy #truffaut

— Ambrose Heron (@filmdetail) February 6, 2012
Both were going through a creative purple patch at the time of recording – Truffaut had just made Jules et Jim (1962) and Hitchcock was making The Birds (1963) after his extraordinary run of films from Rear Window (1954) to Psycho (1960).
If you want to understand or explore the work of Hitchcock it is still the book to beat because of the depths and insights of two master filmmakers in conversation.
One of the many interesting things about listening to them now is how revealing they are of Truffaut. He doesn't shy away from asking the difficult questions (he admits to not liking Rear Window on first viewing) and the discussion of failures like Under Capricorn (1949) are as illuminating as the success of Psycho (1960).
In an age of where some critics still think there is some nobility in worshipping at the contrarian altar of Pauline Kael, there is something refreshing in Truffaut wanting to understand failure rather than condemn it with a witty one liner.
Although Truffaut was a tough, controversial critic in his days at Cahiers du Cinema – attacking the 'certain tendencies' of French cinema – he became perhaps the most humane and heartfelt of filmmakers.
The 400 Blows (1959) was a film that channelled the pain of his childhood into a work of genuine beauty that has inspired people as diverse as Akira Kurosawa, Harvey Weinstein and the writers of The Simpsons.
Shoot the Piano Player (1960) followed, a film which was emblematic of the New Wave, with its mix of European style and American genre elements.
But the relative commercial failure was mirrored by mixed reactions in France, including one that would come back to haunt it: that it was too intellectual and boring.
For the generation of audiences and filmmakers that grew up in the shadow of the New Wave, it was a shorthand that French black and white films would become synonymous with a kind of cinema to be either deified or rejected.
Jules et Jim (1962) perhaps became the archetype of this 'New Wave' movement of critics turned filmmakers.
A hauntingly beautiful depiction of two friends (Henri Serre and Oskar Werner) in love with a mercurial woman (Jeanne Moreau), it cemented Truffaut's reputation around the globe and seemed to predict both the sexual and cultural turbulence of the ensuing decade.
Ask any cinephile what the first thing they think of when they hear the phrase "French New Wave".
Although Jean-Luc Godard's Breathless might be the film that they see in their head, Jules et Jim is the one they'll feel in their heart.
His subsequent career was a case study in appealing to as wide an audience as he could whilst never compromising his art.
He once said:
"To make a film is to improve upon life, to arrange it to suit oneself, to prolong the games of childhood, to construct something that is at once a new toy and a vase in which one can arrange in a permanent way the ideas one feels in the morning."
Like his idol Jean Renoir, Truffaut was able to mine the drama inherent in everyday life without resorting to cheap sentimental tricks.
His following films work never quite had the bombshell impact of The 400 Blows or Jules et Jim, but nearly always contained the emotional heartbeat and creative drive that made his work so special.
A lover of books as well as movies, he created his own personalised version of Balzac's Human Comedy with a series of autobiographical films stretching over twenty years.
Constructing the alter ego of Antoine Doinel (Jean-Pierre Leaud), The 400 Blows began a cycle which continued with Antoine et Colette (1962), Stolen Kisses (1968), Bed and Board (1970) and Love on the Run (1979).
Perhaps unique in film history – Harry Potter is perhaps the only comparable example of an actor literally growing in a role – this series isn't just autobiography.
But Truffaut said his on-screen alter-ego:
"The fictional character Antoine Doinel is, therefore, a mixture of two real people, François Truffaut and Jean-Pierre Leaud".
In making films about himself, he really made them about us, as the viewer has probably gone through the same trials and tribulations as Antoine.
He was also important as a critic in cementing the reputation of Hollywood directors such as Alfred Hitchcock, Howard Hawks and Orson Welles.
It is hard to imagine a time when these icons of cinema weren't venerated, but look at the damning Observer review of Psycho from 1960 and you'll see the hostility that greeted the UK release of that film.
Now he is a rightly venerated director, or – to use a phrase that Truffaut advocated as a critic – he was a genuine auteur.
The only difference was that he was an auteur who worked inside the system.
Speaking of the UK's oldest newspaper, when Day for Night (1973) was re-released last year, their current critic Philip French had an emotional moment watching it again.
One of the greatest movies about filmmaking ever made, it eschews the brilliant darkness of Sunset Boulevard (1950) or satire of The Player (1992).
As French says:
It is a Pirandellian affair, an elegiac celebration of a dying kind of cinema, a meditation on the connection between film and life by Truffaut, who plays Ferrand, the film's constantly troubled yet dedicated director, a man much like himself.

Le mépris (Contempt) is arguably a better, more trenchant film and has a commanding performance by Fritz Lang as the director of the film within the film. But Day for Night is the one I love, and among its many delights is the brief appearance as a British insurance adviser of Graham Greene, credited as Henry Graham. His real identity was unknown to Truffaut who cast him for his distinguished appearance, believing him to be a retired English businessman living in the South of France.

The film has a special moment that always makes my heart leap. It occurs when Truffaut receives a parcel of books, which he eagerly cuts open and tosses them one by one on to the table in front of him. They're monographs on directors, all in French except for two – Robin Wood's Hitchcock and a symposium on Jean-Luc Godard to which I contributed the chapter on Une femme mariée.
In a way, this sums up the appeal of Truffaut's films.
They have a playful, but sincere love of humanity in them that often provokes a personal response.
His love of American cinema would find an outlet in a memorable supporting role a French scientist in Steven Spielberg's Close Encounters of the Third Kind (1977).
Notice how this scene with Richard Dreyfus and Bob Balaban actually sounds like the audio version of Hitchcock interviews:
Speaking at the AFI in 1978, Spielberg said:
"He loves movies than anyone I've ever met in my life. You can take all this New Hollywood bullshit, get all of us sitting in a room together, and he puts us away. He knows more about movies than any of us ever will."
He even edited Small Change (1976) on the set of Close Encounters in Mobile, Alabama and its marvellous depiction of childhood and school days was a subsequent influence on Spielberg's E.T. The Extra Terrestrial (1982).
It was an appropriate passing of the baton from the high priest of the New Wave to the young prodigy of the New Hollywood.
Just before his death from cancer at the age of 52, Truffaut was preparing a variation of The 400 Blows called The Little Thief, which would be completed by his protégé and collaborator Claude Miller.
Although one can only speculate what would films he would have made had he lived, his influence lives on.
It is hard to gauge how many directors have read his interviews with Hitchcock, but given that it subsequently became a text book in film schools, any figure is probably an understatement of its influence.
Citizen Kane (1941) was a film which owes much of its deserved canonisation in the pantheon of cinema to Truffaut and his colleagues at Cahiers du Cinema.
In the same way that younger audiences reject Welles' film because they have been repeatedly told of its greatness, the New Wave has in a sense become the establishment it sought to tear down.
A newer generation of audiences and directors are sometimes put off by its very impact and influence.
This is an irony as Truffaut's use of filmmaking technology (real locations, lighter cameras, low budget, natural light and jump cuts) has many parallels to today's digital revolution.
In an age where cinema is struggling to process enormous technical and social changes, it was heartening to see Google pay such a genuine tribute.
It was a digital salute to a high priest of celluloid.
His optimistic quote about the future of film is perhaps more relevant than ever in today's uncertain environment:
"The film of tomorrow will not be directed by civil servants of the camera, but by artists for whom shooting a film constitutes a wonderful and thrilling adventure."
> Francois Truffaut at IMDb, Wikipedia at TSFDT
> GreenCine on the French New Wave
> Buy a 6-film DVD box set of Truffaut's work at Amazon UK