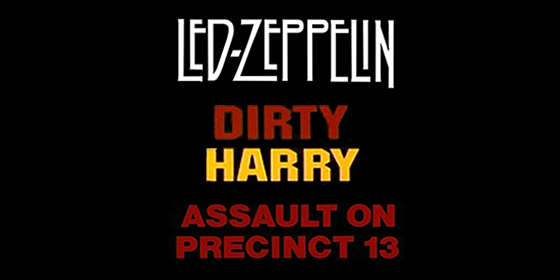 John Carpenter recently revealed the major influence on his memorable score for Assault on Precinct 13.
In a recent interview with Simon Reynolds for Vision Sound Music, he talks about his early musical influences and how Led Zeppelin's Immigrant Song and Lalo Schifrin's Dirty Harry theme influenced the score for his 1976 film.
Immigrant Song was the opening track on Led Zeppelin III, which was released in 1970 so it is entirely feasible that Lalo Schifrin was listening to it when Dirty Harry was in production during 1971 before being released in December of that year.
Notice how the theme which accompanies any scene involving the villian Scorpio (Andy Robinson) features a similar riff to Jimmy Page's guitar, which influenced Carpenter's main theme for Assault on Precinct 13.
It just goes to show how everything is a remix.
> John Carpenter at Wikipedia
> Watch the full Vision Sound Music interview with Carpenter
> Buy Assault on Precinct 13, Led Zeppelin III and Dirty Harry from Amazon UK
> Lalo Schifrin's official site