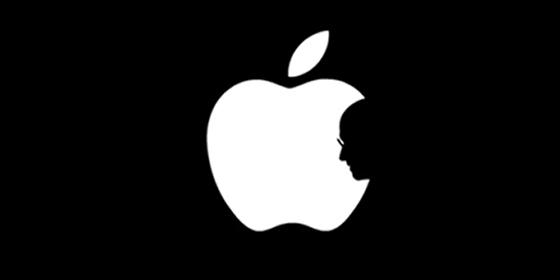 The co-founder and former CEO of Apple died yesterday at the age of 56.
It says much about the impact of Steve Jobs on technology and culture that news of his death made headlines around the world.
Last night as the news broke my Twitter feed lit up with tributes (including the above logo by designer Jonathan Mak) and perhaps his true legacy lies in the fact that many of those tributes were written on devices made by his company.
When he stood down as CEO in August, Apple lost an inspirational leader who helped create it in the 1970s, save it in the late 1990s and then engineer one of the most remarkable corporate turnarounds in history.
As one of the key players in the computer revolution of the last forty years, he has played an instrumental role in how we use technical devices, listen to music and watch entertainment.
His first period at Apple (1976-1985) saw him co-found a company which helped introduce the idea of graphics based computing into the mainstream.
The three-part PBS documentary Triumph of the Nerds: The Rise of Accidental Empires (1996) gives some background to the revolutionary industry of which Apple was a part:
After being fired by the man he hired to run the company, he founded NeXT, a company which aimed to produce workstations for businesses and higher education.
This demo video featuring Jobs from 1987 shows how it pioneered many things we now take for granted:
Most significantly, a NeXT Computer was used by Tim Berners-Lee in the early 1990s to create the first web browser and web server.
Around the same then bought part of the computer division of Lucasfilm and relaunched it as Pixar in 1986.
One of the most significant entertainment companies to emerge in the modern era, they used computers to make animated blockbusters such as Toy Story (1995) and Finding Nemo (2003).
In 1996 Jobs and John Lasseter described the history of Pixar on the Charlie Rose show and what they were trying to do with the company:
This profile of Jobs from the same year focuses on his career up to that point and features a particularly obnoxious news presenter (note the key quote from Jobs when he says: "Apple still has a future"):
After paying Lucas $5m for it in the mid 1980s, he eventually sold it to Disney for $7.4 billion after an unprecedented run of critical and commercial hits.
This alone would have made him a key figure in the entertainment and technology worlds, but in 1997 he made a dramatic return to Apple, which was then in dire trouble.
Restoring the core computing products to their former glories he made bold moves into the music and film industries with the iTunes store, revolutionised how we listen to music with the iPod and reshaped mobile computing with the iPhone and iPad.
Since 2005, Apple's revenues have grown enormously, to the point where this summer it surpassed oil giant Exxon Mobil as the most valuable company in the world.
In recent years health issues have cast a shadow over Jobs, as he survived pancreatic cancer in 2004 and a liver transplant in 2009.
After his first bout of cancer he gave this memorable commencement speech to Stanford University in 2005:
In January of this year he embarked on an extended leave of absence, despite making key public announcements and being involved in key strategic decisions.
His last public appearence was this proposal to his local city council for a new Apple Campus on Tuesday, June 7th:
When the news was announced back in August about Jobs resigning, it made headlines around the world and was the end of an era.
Obituaries have been published at the New York Times and Wired, whilst Laughing Squid and Walt Mossberg have nice tributes.
> Steve Jobs at Wikipedia
> Details on the forthcoming authorised biography of Jobs
> Bloomberg video profile of Jobs (48 mins)