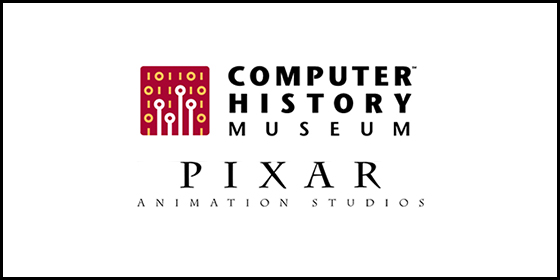 This 2005 discussion at the Computer History Museum gathered together some of the key figures behind Pixar.
Moderated by Michael Rubin, author of Droidmaker: George Lucas and the Digital Revolution, it features:
Running at 1 hour and 41 minutes, it is a great discussion about the history, ethos and working methods of the company.
These days it is perhaps easy to overlook the extraordinary developments in computer animation over the last 30 years, but listening to these guys is a reminder of the hard work and application that went into the studios work.
With all the news and commentary about Steve Jobs stepping down as Apple's CEO, it is worth remembering how visionary he was in buying a computer graphics division of Lucasfilm and helping it become a major animation studio.
Understandably, he will always be remembered more for Apple but the history of Pixar is also a fantastic story which encompasses how the digital revolution in computing shaped how we see movies.
It is worth remembering that Jobs first became a billionaire because of Pixar, not Apple.
The roots of what would become Pixar began when George Lucas was having problems with visual effects on the original Star Wars films – for example, the opening shot of Star Wars (1977) took eight months.
Visual effects were traditionally done using methods that involved models and optical printers, but Lucas wanted to hire people who could use the power of computers to help make the process easier.
This episode of Horizon from 1985 shows how visual effects were done on the original Star Wars films:
Lucas hired Ed Catmull, who was in charge of the computer division at Lucasfilm and Alvy Ray Smith became head of the graphics project there.
In the early 1980s they worked on films which were either produced by Lucasfilm or involved the effects arm of Industrial Light & Magic, most notably Star Trek II: The Wrath of Khan (1982) and Young Sherlock Holmes (1985) which both featured ground breaking use of computers in specific visual effects shots.
When Jobs purchased the company in 1986 and renamed it Pixar, he was essentially buying the most advanced computer animation research group in the world.
One of the founding members was John Lasseter and in 2009 he told me what the goal was in those early days:
"Pixar originally was not an animation studio but a computer company. But we did computer animation research and our goal was to one day do a feature film using this technology. But were were developing – inventing – much of computer animation at Pixar. So we then got a deal with Disney to develop a feature film, which turned out to be Toy Story. It was a huge hit and ushered in an age of computer animation."
Production on the first Toy Story began in 1991, which was a landmark year for visual effects and animation as both Terminator 2 and Disney's Beauty and the Beast both made heavy use of advances in computer technology.
Four years later when Toy Story eventually came out in 1995, it was the world's first full-length computer 3D animated and rendered motion picture.
It began a decade of incredible critical and commercial success with films such as A Bug's Life (1998), Toy Story 2 (1999), Monsters, Inc. (2001), Finding Nemo (2003), The Incredibles (2004), Cars (2006), Ratatouille (2007), WALL-E (2008), Up (2009) and Toy Story 3 (2010).
The final Toy Story film last year became the highest-grossing animated film of all time.
Part of the genius of the company has been to match technical innovation with high standards of writing and storytelling.
In early 2006 Disney officially acquired Pixar for $7.4 billion with Steve Jobs becoming the largest single shareholder, whilst John Lasseter became Chief Creative Officer of Walt Disney Feature Animation.
The $10 million investment Jobs made in Pixar back in 1986 had yielded a profit of $7.3 billion, but also a priceless legacy for animated film.
> Pixar
> The Pixar Touch by David A Price at Amazon UK
> John Lasseter on the history of Pixar in 2009
> Angus MacLane on WALL-E in 2008
> Emotional story about Pixar's Up
> CNN story from 1995 about the release of Toy Story