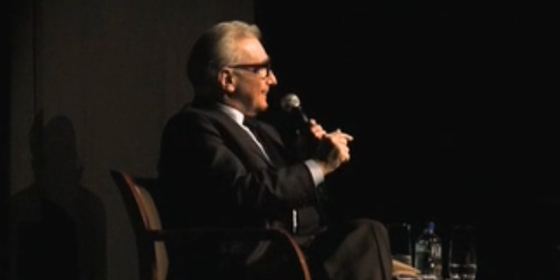 Martin Scorsese has been a tireless advocate for film preservation and last year gave a fascinating hour long talk at the Los Angeles County Museum of Art.
Speaking to Michael Govan, the director of the LACMA, Scorsese discusses a variety of topics and you can watch the full interview here, which begins at 6:06:
Amongst the things they cover include:
Moving to LA in the 1970s and watching prints of old films
The change from the 3-strip camera process to Eastman color
Realising the quality of film prints were declining after watching a double bill of Niagra (1953) and The Seven Year Itch (1955)
The reason a proper print for Luchino Visconti's The Leopard (1960) didn't exist for a long time
How his quest for preserving film prints led to the creation of The Film Foundation in the late 1980s
The fire in the mid-1970s that destroyed the original negative of Citizen Kane (1941)
The films that have benefited from the foundation's work, such as restored prints of Shadow of a Doubt (1943), Paths of Glory (1957) and Once Upon a Time in the West (1969).
How the Film Foundation had restored The Red Shoes (1948) from an original camera negative that was 'mouldy'
The importance of preservation for inspiring the next generation of directors
How the entertainment aspect of cinema created a stigma around it being considered an art form
The meaning of a cut
A parallel tracking shot in Blow Up (1966)
How he came to appreciate the films of Frank Borzage after the age of 50
How plot is the 'hardest thing to shoot'
The influence of the shower scene in Psycho (1960) on a fight scene in Raging Bull (1980)
Why Hitchcock is such a fascinating director
What makes cinema unique as an art
How he would shoot a 3D film (he has since made Hugo)
Shooting the HBO mini-series Boardwalk Empire
The debate on grain and whether digital restorations should remove it or not
Not only is it like listening to the best film professor in history, but it is a genuinely illuminating discussion that touches upon the art and technique of the medium that has meant so much to him.
> Martin Scorsese at Wikipedia
> The Film Foundation
> LAMCA and their Vimeo Channel