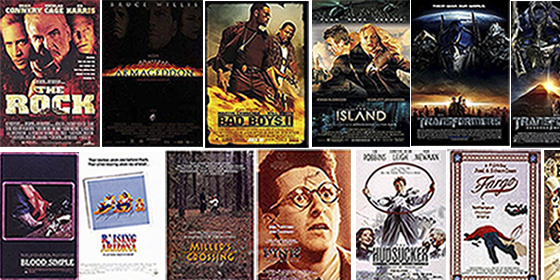 Michael Bay is a very different director compared to The Coen Brothers, so why does he keep casting actors from their films?
It was during the latest Transformers film, as Chicago was being destroyed by intergalactic robots, that it struck me that its director might have a thing for America's leading fraternal auteurs.
When John Turturro (perhaps the quintessential Coen actor) and Frances McDormand (another Coen regular who also happens to be married to Joel) appeared in the same scene, it was hard to ignore the weird sensation that the spirit of the Coens had entered into the most commercial blockbuster of the summer.
If you take a close look at the films of Bay and the Coens, there has been a lot of crossover in terms of the actors who have been in their films.
Examine this chart: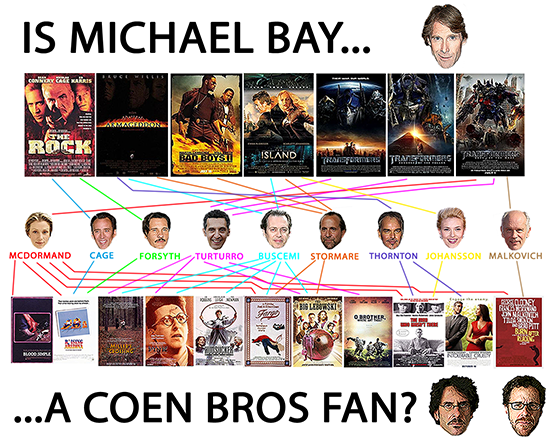 [Click here for a larger version]
The pattern seems to be that Bay casts actors who have established themselves in the Coen universe.
With The Rock (1996), Nicolas Cage was cast in his first blockbuster lead role after appearing in Raising Arizona (1987). A coincidence? Then why does William Forsythe crop up in exactly the same films?
John Turturro is the wild card.
Perhaps the actor who embodied the Coens early period – with key roles in Miller's Crossing (1990) and Barton Fink (1991) – he has also carved out a parallel career in Adam Sandler comedies such as Mr. Deeds (2002) and You Don't Mess With The Zohan (2008), as well as the Transformers franchise.
Actors and directors often like to mix commercial pay cheques with more personal projects, but it seems Turturro is on a one man mission to create the most interesting acting CV in American history.
This is a man who's acting career begins with Raging Bull (1980) and takes in such films as Hannah and Her Sisters (1986), Do the Right Thing (1989), Quiz Show (1994), The Luzhin Defence (2001), Collateral Damage (2002), The Taking of Pelham 123 (2009) and Cars 2 (out this summer).
Steve Buscemi is just below Turturro when it comes to paying his Coen dues, with roles alongside him in Miller's Crossing and Barton Fink, as well as a fantastic turn in Fargo (1996).
But he has also been a quirky presence in Bay's spectacular's such as Armageddon (1998) and The Island (2005).
These last two movies expand the Coen-Bay matrix further still, as Peter Stormare starred alongside Buscemi in both but only after notable appearances in Fargo and The Big Lebowski (1998).
He also squeezed in a role in Bad Boys II (2003) for good measure.
Billy Bob Thornton somewhat bucks the trend as he appeared in The Man Who Wasn't There (2001) and Intolerable Cruelty (2003) after a supporting turn in Armageddon.
But things get back on track with Scarlett Johansson – cropping up in The Island after her role in The Man Who Wasn't There – and John Malkovich, who appears in the new Transformers film after his role in Burn After Reading (2008).
So, what does this all signify?
When it was announced that Turturro and McDormand were cast in Transformers 3, Matthew Fleischer of Fishbowl LA highlighted a comment on Deadline that joked about Bay making a Coen Brothers movie.
Movieline recently had a post titled '5 Coen Brothers Stock Players Who Haven't Appeared In a Michael Bay Film, But Should' and Row Three also chipped in with some thoughts on this odd phenomenon.
So, when he isn't shooting high-octane action movies, filming Victoria Secret's commercials and driving around in his Ferrari, is Bay logging on to Criterion's website to see if they are releasing The Hudsucker Proxy (1994) on Blu-ray?
Well, it turns out Bay is actually is a big Coen Brothers fan, as he revealed in an interview back in 1998, which can be found on his website:
I'm a huge Coen Brothers fan, and I'd love to find some dark, quirky comedy or some thriller. Nothing to do with special effects or explosions.
Perhaps this will be his next film project?
> Michael Bay and The Coen Brothers at Wikipedia
> Reviews of Transformers: Dark of the Moon at Metacritic