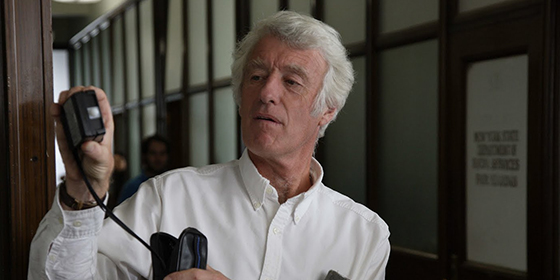 When one of the world's great cinematographers discusses some of his favourite scenes it makes for interesting viewing.
In October 2009 Roger Deakins spoke to Melissa Block of NPR about his work on The Shawshank Redemption (1994) and No Country for Old Men (2007).
First, they discuss a sequence from Frank Darabont's drama, where Andy Dusfresne (Tim Robbins) gets in to a row with prison guard Byron Hadley (Clancy Brown) on the roof of Shawshank Prison.
They discuss the use of a crane shot, how safety cables were removed digitally and the segue to his favourite shot of the film, where Morgan Freeman's voiceover 'syncs' with the movement of the camera. (Click here to see the video)
Then they talk about the scene from the Oscar-winning No Country for Old Men where Sheriff Bell (Tommy Lee Jones) examines a hotel room where Anton Chigurh (Javier Bardem) is hiding in the dark.
A tense sequence, in which light and angles play a key role, they discuss specific shots and how certain decisions were made on the set.
For anyone interested in the cinematic image or how DPs visually construct a scene, it is essential viewing.
Be sure to check out Roger Deakins' official forum where he regularly answers questions from readers.
> Original NPR story and a longer audio interview with Deakins
> Roger Deakins at the IMDb and Wikipedia
> Official forum