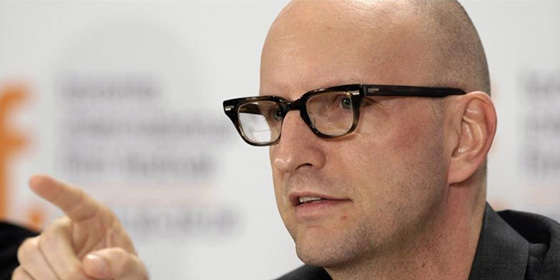 Director Steven Soderbergh recently spoke to Kurt Andersen of Studio 360 and confirmed that he wants to retire.
When I first heard this story, it was hard to believe.
Why would an A-list director who has succesfully criss-crossed the indie and studio worlds just throw in the towel?
It first surfaced when Matt Damon said in December:
"He's retiring, he's been talking about it for years and it's getting closer. He wants to paint and he says he's still young enough to have another career.He's kind of exhausted with everything that interested him in terms of form. He's not interested in telling stories. Cinema interested him in terms of form and that's it. He says, 'If I see another over-the-shoulder shot, I'm going to blow my brains out.' "
It turns out Soderbergh said this to Damon after a few drinks and he wasn't expecting it to get out.
But in the recent discussion on US radio show Studio 360, he has confirmed that after making his current projects (which include Contagion, Haywire, and upcoming Liberace biopic) he plans to stop making films.
You can listen to the section of the interview where he talks about his retirement here:
I'm guessing he felt somewhat burned by his experiences on Che (2008), an ambitious project which didn't find an audience, and Moneyball (2011), the film which fell apart before being made by Bennett Miller.
Maybe he needs to recharge his creative batteries?
You listen to the full 45-minute conversation:
> Steven Soderbergh at Wikipedia
> Studio 360