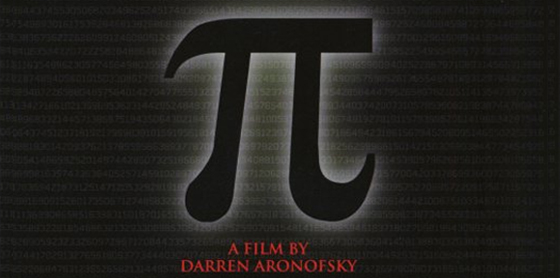 On Pi day it is worth recalling Darren Aronofsky's 1998 debut feature Pi (or π) which established him as a director and remains a compelling US indie.
The atmospheric tale of a reclusive maths genius named Max (Sean Gullette), it explores his obsession with number patterns and how they can explain life as various people take an interest in his experiments including: a former teacher (Mark Margolis), a shady Wall Street firm (how prophetic that seems now) and a Hasidic sect.
As he delves further into the underlying patterns of numbers that may (or may not) explain things he suffers from crippling headaches and paranoia.
Filmed in 16mm black-and-white and made for just $60,000, it was a breath of fresh air when it broke out of the Sundance Film Festival in 1998.
Here was a film a world away from the hardening conventions that surrounded the festival in the late 1990s but it managed to create a buzz, winning the drama directing award and later the Independent Spirit Award for Best First Screenplay.
Although he recently admitted cringing when revisiting the film, it still stands up as a bold and original mix of David Lynch's Eraserhead (1976) and Francis Ford Coppola's The Conversation (1974).
The intriguing ideas, distinctive editing, powerful use of sound, inventive lensing by Matthew Libatique and a bold electronic soundtrack by Clint Mansell all helped paint a powerful picture of a man caught between madness and genius.
In the lead role, Sean Gullette is terrific and would briefly appear in Aronofsky's second feature Requiem For A Dream (2000) before going to do a variety of other projects.
It was acquired at Sundance by Live Entertainment (later to become Artisan), the independent studio who a year later would have a massive breakthrough hit with The Blair Witch Project (1999) before being acquired by Lionsgate in 2003.
What struck me on first viewing was how alive and inventive it was for a low-budget film.
There was no navel-gazing, no acoustic guitars on the soundtrack, it wasn't about the relationship problems of white people and the ideas were genuinely interesting without being pretentious.
There are some similarities with Christopher Nolan's Following (1998): that was also a debut feature shot in black and white on 16mm that screened in Park City, Utah during 1998, although Nolan's film was at the Sundance off-shoot Slamdance.
Aronofsky went on to make the ambitious-but-flawed The Fountain (2006), the gritty, acclaimed drama The Wrestler (2008) and dark, psychodrama Black Swan (2010) but there is an urgency and energy to his debut that is well worth experiencing if you've never seen the film.
> Official site (it is still up!)
> Find out more about Darren Aronofsky at Wikipedia
> IndieWire interview from 1998 with  Darren Aronofsky and Sean Gullette
> Buy Pi on DVD from Amazon UK
> Find out more about Pi Day (March 14th) at Wikipedia