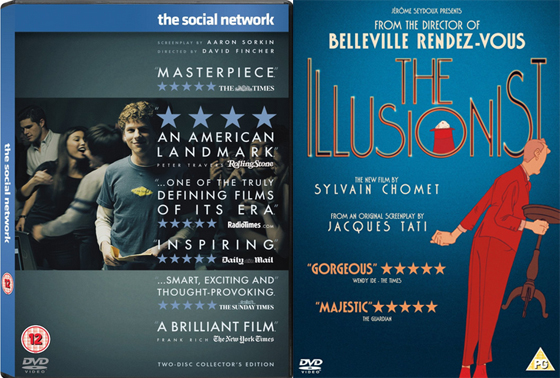 DVD & BLU-RAY PICKS
The Social Network (Sony Pictures Home Entertainment): The story of the creation of Facebook and the subsequent legal battles between founders Mark Zuckerberg (Jesse Eisenberg), Eduardo Severin (Andrew Garfield) and Sean Parker (Justin Timberlake).
Directed by David Fincher and written by Aaron Sorkin, it is one of the outsatanding films of the past year and comes with an array of in-depth features. [Read the full review here]
The Illusionist (20th Century Fox Home Entertainment): Director Sylvian Chomet's latest animated film is based on an unproduced script by Jacques Tati and is about a struggling magician in 1950s Scotland who meets a young woman convinced he is a real magician.
Superbly crafted, it features some wonderful visuals, including a gorgeous period recreation of Edinburgh. With hardly any dialogue it plays like a silent movie and the elegiac tone is incredibly moving. (Sadly there is no Blu-ray release in the UK just yet).