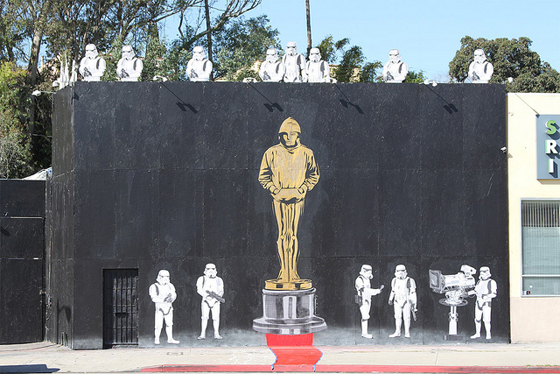 A recent Banksy mural in L.A. suggests that the Oscar campaign for Exit Through The Gift Shop has begun.
After being nominated for the Best Documentary Oscar last week, Banksy issued the following statement:
"This is a big surprise. I don't agree with the concept of award ceremonies, but I'm prepared to make an exception for the ones I'm nominated for. The last time there was a naked man covered in gold paint in my house, it was me."
It seemed only a matter of time before some relevant street art appeared, but unlike the major studios it seems the people behind the low-budget film are relying on a more grass roots approach.
> Exit Through the Gift Shop
> Banksy at Wikipedia