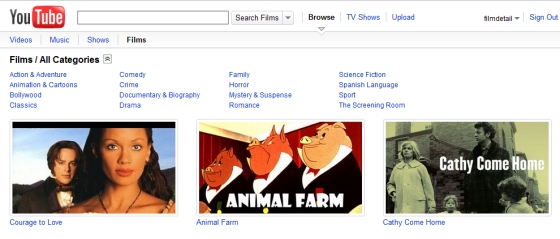 YouTube has several movies you can legally watch for free, but what  are the best of the bunch?
There is obviously a lot of film related content on the world's largest video site, including a lot of 'unofficial' clips and even full length films chopped up into 10 minute chunks.
Recent reports suggest Google (who own the site) have been in talks with Hollywood studios to launch a global pay-per-view video section by the end of this year.
Although it hasn't got a great deal of press, they already have a dedicated movie section (www.youtube.com/movies) where users can legally stream films.
At the moment, these are often titles which have fallen out of copyright or been sanctioned by their owners.
Because of this, some of the films vary in quality so below is a list of the best ones currently there.
(Just click on the title for the YouTube link).
The General (Dir. Clyde Bruckman & Buster Keaton, 1927): Classic silent comedy starring Buster Keaton as a train engineer during the US Civil War.
Metropolis (Dir. Fritz Lang): The classic German expressionist film set in a futuristic city depicted the tensions between workers and bosses.
Carnival of Souls (Dir. Herk Harvey, 1962): Cult horror film about a woman who is involved in a car accident and becomes drawn to a mysterious, abandoned carnival.
Cathy Come Home (Dir. Ken Loach, 1966): A landmark BBC drama about a family in 1960s Britain struggling to deal with unemployment and homelessness.
Night of the Living Dead (Dir. George A Romero, 1968): The classic independent zombie movie, which influenced a generation of filmmakers.
Salaam Bombay! (Dir. Mira Nair, 1988): A Hindi film which chronicles the life of children living on the streets of Mumbai (then known as Bombay).
Land and Freedom (Dir. Ken Loach, 1995): A drama about a young man from Liverpool (Ian Hart) who goes off to fight facism in the Spanish Civil War.
The Funeral (Dir. Abel Ferrara): Gangster film centered around a family of New York gangsters in the 1930s, starring Christopher Walken and Chris Penn and Annabella Sciorra.
Bob Dylan 1966 World Tour, The Home Movies: Through the Camera of Mickey Jones (Dir. Joel Gilbert, 2003): Documentary that features rare footage of Dylan touring at his peak, when he traded in his acoustic guitar for an electric sound.
Undertow (Dir. David Gordon Green, 2004): Indie drama set in Georgia about two bothers (Jamie Bell and Devon Alan) who go on the run from their dangerous uncle (Josh Lucas). Look out for a pre-Twilight Kristen Stewart.
Hannah Takes The Stairs (Dir. Joe Swanberg, 2007): An archetypal 'mumblecore' film typical of the genre, featuring regulars like Greta Gerwig, Andrew Bujalski and Mark Duplass.
> Official YouTube Movies section
> CNET on Google's possible pay-per-view plans