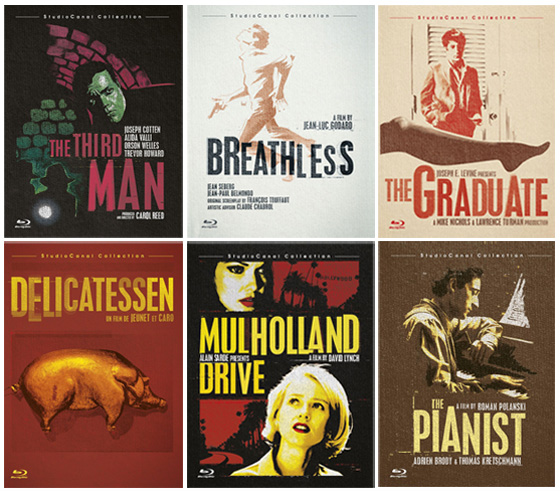 The latest batch of Blu-rays from The Studio Canal Collection, released on September 13th, feature The Third Man, Breathless, The Graduate, Delicatessen, Mulholland Drive and The Pianist.
For any self-respecting film fan these are nearly all essential purchases which range from milestones in post-war cinema to more modern classics.
All these titles are in 1080p, feature DTS-HD Master Audio soundtracks and come with new cover art and liner notes and are released on September 13th.
Each title also comes with a lot of extras – some of which are new and exclusive to the Blu-ray versions – but I'll review those later in individual posts on each title nearer the release date.
The Third Man (1949): One of the genuine landmarks of cinema, a tale of a writer (Joseph Cotten) visiting an elusive friend (Orson Welles) in post-war Vienna. It featured a bewildering array of talent behind and in front of the camera: Carol Reed directed from a script by Graham Greene, whilst Alexander Korda and David O'Selznick co-produced and aside from Welles and Cotten the cast features Trevor Howard and Allida Valli. Famous for its iconic set pieces – light illuminating a doorway, a dialogue on a enormous ferris wheel, a chase through the sewers and two funerals, it also has one of the most distinctive scores courtesy of Anton Karas' zither. It also won the Palme D'Or at Cannes and the Oscar for Best Cinematography.
Breathless (1960): Perhaps the iconic film of the French New Wave, this tale of a small time crook (Jean-Paul Belmondo) who goes on the run after stealing a car and shooting a cop, sees him end up in Paris with an American girlfriend (Jean Seberg). With its loose narrative, location shooting, improvised dialogue, jump cuts, deliberately mismatched shots and literary references, it remains a landmark film. It gave French and European cinema a much needed shot of inspiration when it first came out in 1960, with audiences and critics responding to its energy and artistic verve. N.B. The Special Edition DVD release also comes out the same day as the Blu-ray.
The Graduate (1967): One of the iconic films of the late 1960s saw Dustin Hoffman play the eponymous graduate, a recent university graduate drifting aimlessly in life, who is seduced by an older woman, Mrs. Robinson (Anne Bancroft), only to fall in love with her daughter (Katharine Ross). Director Mike Nichols struck a chord with a younger generation of audiences by using techniques borrowed from the French New Wave to craft a witty tale of youthful alienation. Odd angles and unconventional editing were combined with a sharp script by Buck Henry and Calder Willingham (adapted from from Charles Webb's novel) and the result was a huge hit, launching Hoffman's career and also boosting Simon and Garfunkel whose music features heavily on the soundtrack.
Le Cercle Rouge (1970): A stylish French crime drama about two criminals (Alain Delon and Gian-Maria Volonté) who join forces with a corrupt ex-cop (Yves Montand) for a tricky heist becomes something much deeper in the hands of director Jean-Pierre Melville. Exploring the moralities of those breaking and enforcing the law, it features excellent performances from the leads, a wonderfully teasing narrative and some brilliantly executed set-pieces. It was heavily cut for its initial US release in 1970, but this id the fully restored version.
Delicatessen (1991): The wonderfully surreal debut of the Jean-Pierre Jeunet and Marc Caro, set in a post-apocalyptic world where food is scarce, is about an ex-clown (Dominique Pinon) who gets a job in an apartment building and then falls for the daughter of the building's owner – an imposing and sinister butcher. Below them, down in the sewers, live some rebel vegetarians.
Mulholland Drive (2001): David Lynch's neo-noir journey through the dark side of Hollywood is still as fresh, disturbing and trippy as it was when it first came out. The tale of a woman (Laura Elena Harring) who loses her memory in a car accident and the actress (Naomi Watts) who tries to help her out, it weaves a hypnotic spell as it unfolds in wildly unconventional ways. Featuring all manner of memorable characters including a director, a cowboy and a mysterious singer, it is one of those films which has inspired all manner of theories due to the hallucinogenic games Lynch plays with the audience.
The Pianist (2002): Roman Polanski won the Oscar for Best Director for this World War II drama about Polish pianist Wladyslaw Szpilman, who escaped the Nazi death camps by hiding in the Warsaw ghetto. Played by Adrien Brody (who also won an Oscar for his performance) it is a gruelling tale of survival which features an interesting (and true life) twist. The gradual destruction of Warsaw provides a haunting backdrop to Szpilman's story of survival is treated with a powerful blend of intelligence and emotion. Polanski's own personal experiences during the war no doubt made the film a personal one and the craft, especially Pawel Edelman's cinematography, is impeccable throughout.
Breathless: 50th Anniversary Special Edition is out on DVD and Blu-ray on September 13th
The Studio Canal Collection titles are also out in Blu-ray on September 13th
> Studio Canal Collection
> Best DVD and Blu-ray releases of 2009