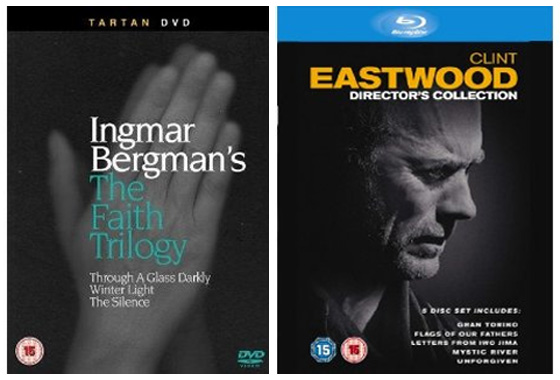 [ad]
DVD & BLU-RAY PICKS
Ingmar Bergman's The Faith Trilogy (Palisades Tartan): Ingmar Bergman's classic three films from the early 1960s about religion and spiritual crisis have been repackaged for a new DVD box set.
Notable for cementing his reputation as one of Europe's finest directors, they still remain amongst his finest work and feature some exquisite cinematography from long-time collaborator Sven Nykvist.
Through A Glass Darkly (1961) is a searing family drama about a disturbed young woman (Harriet Andersson) as she holidays on a summer island with her detached father (Gunnar Björnstrand), husband (Max Von Sydow) and brother (Lars Passgård). It won Bergman his second Best Foreign Film Oscar and is bleak but engrossing study of a family struggling to cope under enormous emotional and mental strains. Andersson and Van Sydow are especially outstanding in their roles.
Winter Light (1962) explores the spiritual crisis facing a small-town pastor (Gunnar Björnstrand) over a single Sunday afternoon in November. As his congregation dwindles, his remaining parishioners (Ingrid Thulin, Max von Sydow) have problems which reflect his own spiritual demons. Björnstrand gives one of his greatest performances and the lack of music, sparse sets, and stark black-and-white photography all add to the powerful sense of desolation. Released in the year when the world actually was on the brink of nuclear Armageddon, it is one of Bergman's most raw and spellbinding films.
The Silence (1963) is the enigmatic tale of two sisters: the eldest is a translator (Ingrid Thulin) with a serious illness, whilst the younger one (Gunnel Lindblom) has a young son (Jörgen Lindström). Whilst travelling back to Sweden, they stop off in an unidentified Central European country and various tensions arise. The human struggle to communicate with each other as well as God is a pervasive theme throughout and the sensual depiction of human desire is superbly evoked (so well in fact, that the film caused considerable controversy when it was released).
Tartan have remastered the films and added introductions with Marie Nyrerod speaking to the late director.
Although they are short they feature Bergman talking about his fondness for Winter Light and the censorship issues surrounding by The Silence.
The discs come in separate slim line cases along with a booklet of reviews by the late critic Philip Strick. The discs are all region free.
> Buy Ingmar Bergman's The Faith Trilogy on DVD from Amazon UK
[ad]
Clint Eastwood: The Director's Collection (Warner Bros.): This neat compilation of Eastwood's more recent films as a director came out on DVD last month and has now got the Blu-ray treatment.
It includes his most recent drama Gran Torino (2008), his World War II dramas Flags of Our Fathers (2006) and Letters from Iwo Jima (2006), the Boston crime drama Mystic River (2003) and his Oscar winning western Unforgiven (1992).
> Buy Clint Eastwood: The Director's Collection on Blu-ray from Amazon UK
ALSO OUT
14 Blades (Icon Home Entertainment) [Blu-ray / DVD]
Centurion (20th Century Fox Home Ent.) [Blu-ray / DVD]
Elvis – The Movie (Fremantle Home Entertainment) [DVD]
Mongrels: Series 1 (2 Entertain) [Blu-ray / DVD]
Perrier's Bounty (Optimum Home Entertainment) [Blu-ray / DVD]
The Killing Machine (Anchor Bay Entertainment UK) [Blu-ray / DVD]
The Machinist (Palisades Tartan) [Blu-ray / with DVD]
Whip It (Lionsgate UK) [Blu-ray / DVD]
> The Best DVD and Blu-ray releases of 2009
> UK cinema releases for Friday 13th August 2010 including The Sorcerer's Apprentice and The Last Airbender