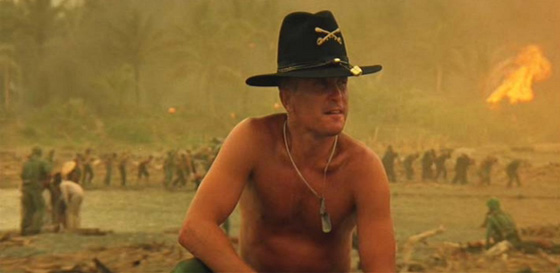 Details have been announced for the Blu-ray release of Francis Ford Coppola's Apocalypse Now in two different versions on October 19th.
Although this is the US release date, a UK and worldwide release should be confirmed relatively soon.
The epic about a US army captain (Martin Sheen) sent to assassinate a rogue colonel gone native deep in the jungle (Marlon Brando) is one of the great films of the 1970s and a vivid depiction of the insanity of the Vietnam War.
There will be a regular 2-disc set and a more comprehensive Full Disclosure edition which includes George Hickenlooper's memorable making of documentary Hearts of Darkness: A Filmmaker's Apocalypse (1991), which will also be in 1080p.
The package will include the original 1979 theatrical cut and the extended Apocalypse Now Redux version (released back in 2001) and both will be presented in the original theatrical aspect ratio of 2.35:1.
For previous DVD releases cinematographer Vittorio Storaro made the curious decision to modify it to 2.00:1 (the Univisium format), which he thinks should be a universal ratio for all films.
But now audiences will be able to see the film in high definition as well as in its original theatrical aspect ratio for the first time.
The extras for the two editions break down like this: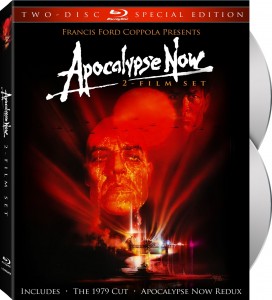 2 FILM SET
Apocalypse Now – 1979 Cut
Apocalypse Now Redux
"A Conversation with Martin Sheen" interview by Francis Ford Coppola
"An Interview with John Milius" interview by Francis Ford Coppola
Complete Francis Ford Coppola interview with Roger Ebert at the 2001 Cannes Film Festival
Monkey Sampan "lost scene"
Additional Scenes

"Destruction of the Kurtz Compound" end credits with audio commentary by Francis Ford Coppola
"The Hollow Men," video of Marlon Brando reading T.S. Eliot's poem

Featurettes:

The Birth of 5.1 Sound
Ghost Helicopter Flyover sound effects demonstration
A Million Feet of Film: The Editing of Apocalypse Now
The Music of Apocalypse Now
Heard Any Good Movies Lately? The Sound Design of Apocalypse Now
The Final Mix
Apocalypse Then and Now
The Color Palette of Apocalypse Now
PBR Streetgang
The Color Palette of Apocalypse Now
The Synthesizer Soundtrack" article by music synthesizer inventor Bob Moog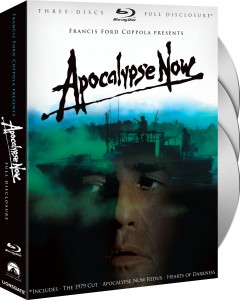 FULL DISCLOSURE EDITION
Like the 2-Film Set above, plus the following:
Hearts of Darkness: A Filmmaker's Apocalypse
Optional audio commentary with Eleanor and Francis Ford Coppola
48-page collectible printed booklet with special note from Francis Ford Coppola, never-before-seen archives from the set, behind the scenes photos and more
John Milius Script Excerpt with Francis Ford Coppola Notes
Storyboard Gallery
Photo Gallery, including images from photographer Mary Ellen Mark
Marketing Archive
[Via IGN UK]
> Apocalypse Now at Wikipedia and IMDb
> Pre-order the Blu-ray of Apocalypse Now at Amazon UK