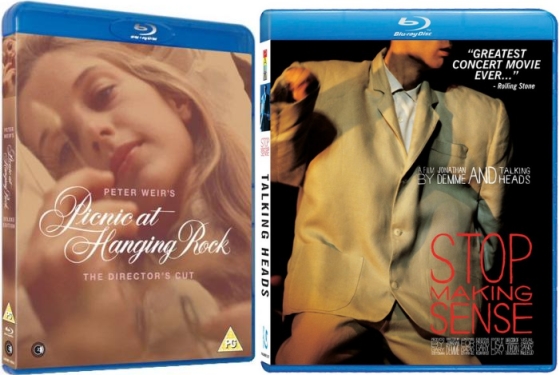 [ad]
DVD & BLU-RAY PICKS
Picnic at Hanging Rock (Second Sight): This haunting tale about a group of schoolgirls who go missing whilst on a picnic in 1900 remains of the iconic films in Australian cinema. Its release in 1975 signalled the arrival of Peter Weir as a major director and the hypnotic, lyrical qualities have not diminished since then.
Adapted from the novel by Joan Lindsay, it isn't actually a true story (even though at times it has the feel of one) but remains a powerful exploration of innocence, time and mystery.
The locations, from the girl's school to the picnic in the countryside, are beautifully captured by cinematographer Russell Boyd and as the film progresses it becomes a memorable tale of loss and regret.
An important part of the atmosphere is the indelible music which features Gheorghe Zamfir on pan pipe and Marcel Cellier on the organ.
Special features are pretty substantial and include the following:
Feature-length documentary: A Dream within a Dream (120 mins)
A Recollection: Hanging Rock 1900 – Joan Lindsay interview
Hanging Rock and Martindale Hall: Then and Now
Short film: The Day of St Valentine (the first screen adaptation of Joan Lindsay's novel)
Audio interviews
Stills and poster gallery
Scenes deleted for the director's cut
> Buy Picnic at Hanging Rock on Blu-ray from Amazon UK
> Find out more about the film at Wikipedia and the IMDb
Talking Heads: Stop Making Sense (Palm Pictures): This ground-breaking 1984 concert film featuring Talking Heads directed by Jonathan Demme remains one of the essential rock movies. Filmed over three nights at Hollywood's Pantages Theater in December 1983, it captured the group as they were touring their album Speaking in Tongues.
What made the film stand out from others in the genre was Demme's innovative approach to shooting a concert.
With Talking Heads he found a band who were not only interested in stage craft but were also willing to allow him an unusual amount of creative freedom in capturing them live.
The lack of audience shots, unusual lighting choices for each song and the visible presence of the stage crew are just some of the elements which mark this out from the bog standard concert movie.
Front man David Byrne is a charismatic presence throughout and his stage persona was arguably a big influence on lead singers like Michael Stipe and Bono in later years, whilst the energy of the rest of band is just as infectious.
This was Demme's first documentary and his use of handheld cameras, along with longer-than-usual shots, gives the film a distinctive flavour which chimes in a band who were never a slave to fashions and trends of the early 1980s.
The Blu-ray is being released by Palm Pictures and includes the following bonus features:
Previously unreleased 1999 press conference with all four Talking Heads
The short film "David Byrne Interview…David Byrne"
Versions of "Cities" and "Big Business/I Zimbra" not featured in the original film.
Film fans might note references to Dr. Strangelove and Breathless, theatre buffs may spot the influence of Japanese Noh theatre and R.E.M. fans may notice the influence of this on Tourfilm (1989).
> Buy Stop Making Sense on Blu-ray from Amazon UK
> Find out more about Talking Heads at Wikipedia
[ad]
ALSO OUT
2001 Maniacs: Field of Screams (Anchor Bay Entertainment UK) [Blu-ray / DVD]
Cats and Dogs (Warner Home Video) [DVD]
Clash of the Titans (Warner Home Video) [Blu-ray with DVD]
Fantastic Planet (Eureka) [Blu-ray]
Hierro (Optimum Home Entertainment) [Blu-ray / DVD]
Paranoiac (Eureka) [Blu-ray / DVD]
Remember Me (E1 Entertainment UK) [Blu-ray / with DVD]
Shank (Revolver Entertainment) [Blu-ray / DVD]
Sons of the Wind – Bangkok Ninjas (Manga Entertainment) [DVD]
The Bounty Hunter (Sony Pictures Home Ent.) [Blu-ray / DVD]
Vengeance Is Mine (Eureka) [Blu-ray / DVD]
> The Best DVD and Blu-ray releases of 2009
> UK cinema releases for Friday 23rd July 2010 including Toy Story 3