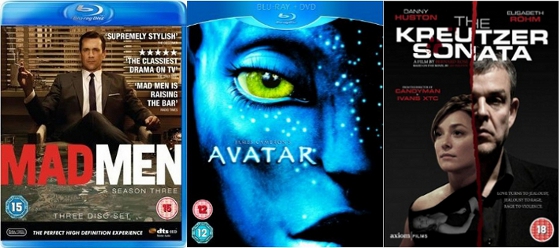 [ad]
UK DVD & BLU-RAY PICKS
Mad Men Season 3 (Lionsgate): One of the best Blu-ray releases of the year also happens to be the third season of the best show currently on television. Depicting the professional and personal lives of those who work at fictional New York ad agency Sterling Cooper, this series is set during 1963 and explores tensions with the new British owners, the ongoing personal conflicts (and infidelities) in the office and the gradual changes in US society.
The first two seasons touched on events such as the 1960 US election and the death of Marilyn Monroe, but this series manages to gradually combine the serious social changes of the era with the complex emotional situations facing the characters, culminating in brilliantly orchestrated season climax. *Read our full review here* [Blu-ray / DVD]
Avatar (20th Century Fox Home Ent.): James Cameron's futuristic sci-fi epic about a paraplegic marine (Sam Worthington) who ventures to another planet and becomes one of the alien natives through a host body (or 'avatar') was a box office phenomenon that surpassed expectations to become the highest grossing film of all time. After a 12 year absence from feature films Cameron utilised ground breaking visual effects to craft a tale that was a dazzling 3D experience at cinemas and one that resonated with cultures around the globe.
Although some of the dialogue didn't match the eye-popping visuals, there was something pleasing about the way in which vast technological resources of the Hollywood machine were used to create a film with a simple anti-war, pro-environmental message. Because the Blu-ray release is so hotly anticipated, it is worth stating that there are no extras at all on this version. Cameron said he didn't have the time to do them right and there will be a fuller package later this year with extended extras. Also, for this release Cameron has opted to use go for the 1.78:1 version (that was screened in IMAX cinemas) and not the 2.35:1 version that most people saw in 3D at the cinema. Despite that, the Blu-ray transfer is stunning and the visuals (including the live action sequences) are rendered with stunning detail and depth. [Blu-ray / DVD]
The Kreutzer Sonata (Axiom Films): Based on a story written by Leo Tolstoy in response to Beethoven's eponymous composition, director Bernard Rose dissects a modern marriage between a wealthy philanthropist (Danny Huston) who becomes possessive of his pianist wife (Elisabeth Rohm). Following up his superb drama Ivansxtc, Rose continues his reworking of the great Russian novelist's work, and this is the second part of a planned trilogy.
Danny Huston, who was outstanding in Ivansxtc, returns with another excellent performance, and the film is an interesting exploration of fairly juicy themes including love, sex and obsession. Whilst not quite as good as its predecessor, it represents another interesting chapter in Rose's career outside the Hollywood mainstream. [DVD]
ALSO OUT
Prince Valiant (Eureka) [Blu-ray / DVD]
Saving Private Ryan (Paramount Home Entertainment) [Blu-ray]
Smokin' Aces (Universal Pictures) [Blu-ray]
Sword of the Stranger (Beez Entertainment) [Blu-ray]
The Girlfriend Experience (Revolver Entertainment) [Blu-ray / DVD]
Mad Men: Seasons 1-3 (Lionsgate UK) [Blu-ray / DVD]
Carriers (Paramount Home Entertainment) [DVD]
Dillinger (Icon Home Entertainment) [DVD]
> The Best DVD and Blu-ray releases of 2009
> UK cinema releases for Friday 23rd April including Date Night and Centurion