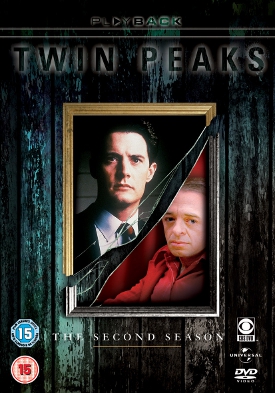 We have 3 copies of Twin Peaks Season 2 to give away on DVD, courtesy of Universal Playback.
One of the most eagerly anticipated releases of the year, fans of the famous series made it the most requested title in Universal Playback's catalogue.
Directed by the legendary David Lynch, this series picks up from the first season cliff-hanger that saw Agent Cooper (Kyle Maclachlan) shot repeatedly as he closed in on the mystery surrounding the brutal murder of Laura Palmer (Sheryl Lee).
Twin Peaks originally aired between 1990 and 1991 and quickly became one of the most critically acclaimed and popular TV series around the world.
Taking root in popular culture, even today it regularly features in lists of classic TV shows.
Notable guest appearances in Season 2 include Heather Graham, Billy Zane, David Duchovny and David Lynch himself as a hard-of-hearing senior FBI agent.
Season 1 was released on DVD in the UK in 2001 and has consistently been one of Universal Playback's best-sellers ever since, shifting more than 109,000 units.
Season 2 has since been released on DVD in the US, Australia and Germany but not in the UK, until now.
In addition, Universal Playback are also releasing Twin Peaks: The Definitive Gold Box Set, which includes Season 1 and Season 2
[ad]
However, to be in with a chance of winning a copy of Twin Peaks Season 2 on DVD just answer the following question:
Which 1980 film directed by David Lynch starred John Hurt as John Merrick?
The closing date is Monday 5th April and winners will be notified by email.
Twin Peaks Season 2 is out on DVD from Universal Playback from Monday 22nd March
> Official Twin Peaks website
> Find out more about Twin Peaks at Wikipedia
> Twin Peaks at the IMDb
> Buy the Twin Peaks Definitive Gold Box Edition from Amazon UK