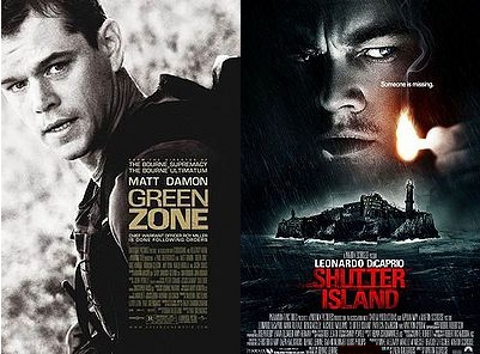 [ad]
NATIONAL RELEASES
Green Zone (Universal): The latest thriller from director Paul Greengrass is set in post-invasion Iraq during 2003 and follows a US officer (Matt Damon) assigned to hunt down the Weapons of Mass Destruction the Bush administration believed Saddam Hussein had hidden. As the weapons fail to turn up he begins to suspect something is wrong and doubt the premise upon which the war was fought.
In his search he comes across the newly arrived US Administrator of Iraq (Greg Kinnear); a CIA agent (Brendan Gleeson); a Wall Street Journal reporter (Amy Ryan); a local Iraqi (Khalid Abdalla); and a special forces Major (Jason Isaacs). Although a pulsating and technically brilliant thriller, the political subtext of the film is somewhat undermined by changing of names and details for legal reasons. [Empire Leicester Square & Nationwide / 15] (Previews from March 10th)
* Read my full thoughts on Green Zone here *
Shutter Island (Paramount): Director Martin Scorcese follows The Departed (2006) with an adaptation of Dennis Lehane's 2003 novel about a US Marshall (Leonardo DiCaprio) sent to investigate strange goings on at a secure psychiatric hospital off the coast of Massachusetts. Haunted by his past, he finds it difficult to trust the chief psychiatrist (Ben Kingsley) and slowly begins to suspect that something is afoot.
Although the performances are all solid and the technical aspects first rate, the underlying premise of the story feels an episode of Alfred Hitchcock Presents. Appropriately it references Hitchcock a lot (especially Vertigo), but never reaches the heights of Scorcese's finest work, even if that is far better than most living directors. [Vue West End & Nationwide / 15]
Hachi: A Dog's Tale (Entertainment): A US remake of the Japanese film Hachikō Monogatari directed by Lasse Hallström (who also made My Life As A Dog) starring Richard Gere as a college professor who has a special bond with an abandoned dog he takes into his home.
It went straight to DVD in the US but UK distributor Entertainment will be hoping that dog lovers and those looking for lighter fare this week will check it out. [Nationwide / U]
[ad]
ALSO OUT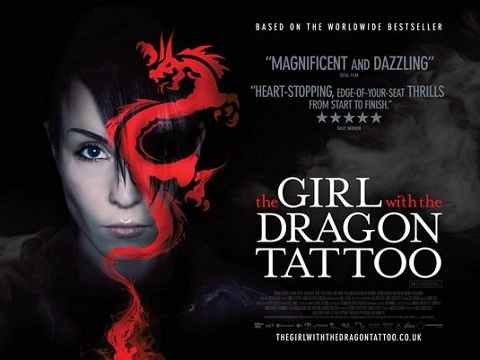 The Girl With The Dragon Tattoo (Momentum Pictures): Based on the first of a series of best-selling Swedish novels by the late Stieg Larsson, this sees a journalist (Michael Nyqvist) and a teenage hacker (Noomi Rapace) team up to solve a suspected murder, which could be part of a wider conspiracy.
The books have become a sensation around the globe, selling over 21 million copies worldwide. The fact that the film is in Swedish, will inevitably mean reduced earnings but could still do decent arthouse and crossover business for Momentum. The inevitable Hollywood remake is already in the works and that probably will make more of an impact at the global box office. [Curzon Mayfair, Vue West End & Nationwide / 18]
The Kreutzer Sonata (Axiom Films): Following on from ivansxtc (2002) director Bernard Rose has done another re-imagining of a Tolstoy story exploring the darker side of Hollywood. The second of a planned trilogy, this sees a wealthy philanthropist (Danny Huston), who meets a beautiful and talented pianist (Elisabeth Röhm). [Key Cities / 18] (Scotland from March 26th)
The Ape (ICA Films): A Swedish noir film about an unsympathetic man who wakes up in a bathroom covered in blood and slowly realise what horrific circumstances brought him there. [ICA Cinema]
Under Great White Northern Lights (More2Screen): A concert film featuring The White Stripes. [Key Cities]
> DVD and Blu-ray Picks for Monday 8th March including An Education, Bright Star, Toy Story 1 & 2 and Afterschool
> Get local cinema showtimes for your area via Google Movies