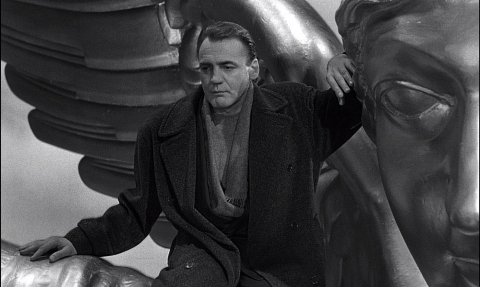 [ad]
After a spell making films in the U.S., director Wim Wenders returned to his native Germany for Wings of Desire (1987), a beautiful meditation on existence in a Berlin that was heading towards the end of the Cold War.
The story follows two angels, Damiel (Bruno Ganz) and Cassiel (Otto Sander) as they observe and listen in on the lives of Berlin's citizens, most notably a trapeze artist, Marion (Solveig Dommartin) and Peter Falk (playing himself) who is in the city making a film.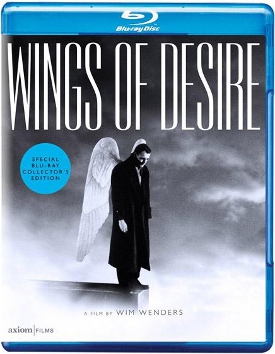 Co-written with frequent collaborator Peter Handke, Wenders manages to contrast the poetic ruminations of the angels with the doubts and anxieties of the humans to stunning effect: monochrome is contrasted with colour, the camera goes from the skies above to the streets below and the journey of one of the angels is a touching reversal of what usually happens in these kinds of stories.
Wenders the Best Director prize at the Cannes Film Festival and the film spawned a decent – though inferior – sequel in 1993 with Faraway, So Close! and a Hollywood remake (City of Angels) which is best left forgotten.
An instant art house hit when it was originally released, the film has gained an extra layer of poignancy given the seismic changes the Berlin it so lovingly documents was about to undergo when the Wall fell in 1989.
This Blu-ray release is a massive improvement on existing DVDs and is a restored high-definition digital transfer, supervised and approved by Wenders and the 1080p rendering looks fantastic, with the details and black and white being rendered more faithfully than ever before.
Extra features include:
1080/23.98p 1.66:1 Widescreen (extras in SD PAL format)
German 5.1 DTS-HD MA with optional English subtitles
Feature-length commentary with Wim Wenders and Peter Falk
Deleted scenes with optional commentary
'Conversations on Wings of Desire' featurette
Trailer
Exclusive limited edition 24 page collector's booklet
Wings of Desire is out on on Blu-ray from Axiom Films
> Buy Wings of Desire on Blu-ray from Amazon UK
> IMDb entry
> Find out more about Wim Wenders at Wikipedia
> Check out screen grabs of the Blu-ray at DVD Beaver