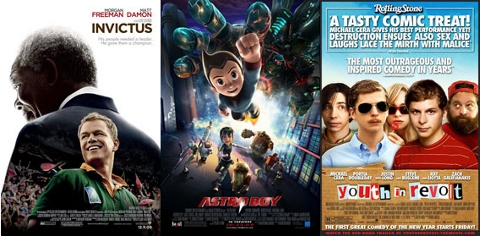 [ad]
NATIONAL RELEASES
Invictus (Warner Bros.): Clint Eastwood's latest film is based on the true story of how Nelson Mandela (Morgan Freeman) used the 1995 Rugby World Cup to unite South Africa in a moment of sporting solidarity with the help of national team captain Francois Pienaar (Matt Damon).
Although this was touted as a likely awards season contender, the expected nominations (apart from two acting nods for Freeman and Damon) have failed to materialise, mainly because it isn't quite up to the high standards of Eastwood's best work behind the camera.
That said, the two leads are convincing and there is a pleasing directness to the material which gives it an undeniable punch. Although it can't resist obligatory sporting clichés (slow motion being a major culprit), the central drama is well handled and the technical work behind the camera is what we've come to expect from latter day Eastwood films. [Nationwide / 12A]
Astro Boy (E1 Entertainment): A CGI animated film about a young robot (voiced by Freddie Highmore) with incredible powers created by a brilliant scientist in the image of the son he has lost.
Based on the long running Japanese series, it features a decent voice cast including Kristen Bell, Nathan Lane, Eugene Levy, Bill Nighy, Donald Sutherland and Nicolas Cage. The middling reviews in the US and poor box office performance suggest that it won't set UK cinemas alight. [Empire Leicester Square & Nationwide (Previews 30/31st Jan)
Youth In Revolt (Paramount/Momentum): An adaptation of C.D. Payne's epistolary novel starring Michael Cera as a teenager who sets his sights on a local girl (Portia Doubleday) and creates an alter ego to win her over.
Directed by Miguel Arteta, it co-stars Jonathan B. Wright, Steve Buscemi, Zach Galifianakis and Ray Liotta. Positive reviews from the US would suggest that it's weak box office performance has more to do with the woes of The Weinstein Company than the quality of the film. Fans of Michael Cera and hip teen audiences may be the target audience. [Vues Fulham Broadway, Islington, West End & Nationwide / 15]
[ad]
ALSO OUT
Malice In Wonderland (Kaleidoscope Entertainment): A modern take on the fairytale, set in the North East of England. [Key Cities / 15]
Tony (Revolver Entertainment): A low budget British film about a serial killer getting a limited theatrical release before being released on DVD this Monday. [London & Key Cities / 18]
The Island (Artificial Eye): A drama set in a small Russian Orthodox monastery about an unusual man who people believe has the power to heal, exorcise demons and foretell the future. [Curzon Renoir & Selected Key Cities from 19th Feb]
Holy Water (Kaleidoscope/Centurion ): British comedy about a once a thriving spa town that is livened up after a stash of Viagra is hidden down its famous Holy Well. [Key Cities / 18]
> DVD and Blu-ray Picks for Monday 1st February including Broken Embraces and Sin Nombre
> Get local cinema showtimes for your area via Google Movies