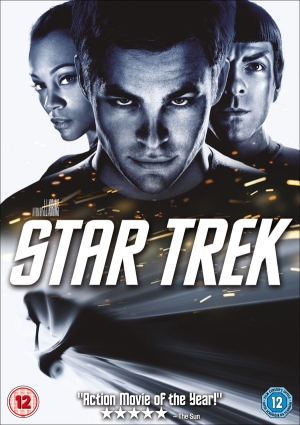 The re-boot of the Star Trek franchise by director J.J. Abrams featured a new cast and a twist which cleverly incorporated old characters whilst paving the way for new stories.
Essentially this is a prequel exploring the back story of the Enterprise crew with Chris Pine as Kirk, Zachary Quinto as Spock, Zoe Saldana as Uhura, Karl Urban as Bones and Simon Pegg as Scotty.
After the opening section, which explores how they came to be at Starfleet, they get involved in a conflict with the Romulans, led by the enigmatic Nero (Eric Bana), who is after revenge.
The production design and visual effects are excellent, but it is the script and performances which really engage, in particular the storyline which allows for the return of an old character and the beginning of a new era for the USS Enterprise.
It is available on 1-Disc and 2-Disc DVD versions and Blu-ray Disc.
The extras on each version break down like this:
1-Disc DVD
English DD5.1 Surround
Commentary by director J.J. Abrams, writers Robert Orci and Alex Kurtzman, producer Damon Lindelof and executive producer Bryan Burk
A New Vision – J.J. Abrams' vision was not only to create a Star Trek that was a bigger, more action-packed spectacle, but also to make the spectacle feel real. Every aspect of production-from unique locations to the use of classic Hollywood camera tricks-was guided by this overall objective.
Gag Reel – Bloopers featuring the entire principal cast.
2-Disc DVD – As above, plus the following additional extras:
Deleted Scenes with Optional Commentary
To Boldly Go – Taking on the world's most beloved science fiction franchise was no small mission. Director J.J. Abrams, writers Roberto Orci and Alex Kurtzman, producer Damon Lindelof, and executive producer Bryan Burk talk about the many challenges they faced and their strategy for success.
Casting – The producers knew their greatest task was finding the right cast to reprise these epic roles. The cast, for their part, talk about the experience of trying to capture the essence of these mythic characters. The piece concludes with a moving tribute to Leonard Nimoy.
Aliens – Designers Neville Page and Joel Harlow talk about the hurdles they faced creating new alien species, recreating the Romulans and Vulcans, and designing the terrifying creatures on Delta Vega for the new Star Trek.
Score – As a fan of the original series, composer Michael Giacchino embraced the challenge of creating new music for Star Trek while preserving the spirit of Alexander Courage's celebrated theme.
The Blu-ray Disc version is a three-disc set (2xBD, 1xDigital Copy) in which you get all of the DVD extras plus several exclusives:
English 5.1 Dolby TrueHD
Commentary by director J.J. Abrams, writers Robert Orci and Alex Kurtzman, producer Damon Lindelof and executive producer Bryan Burk
A New Vision (HD) – See description above
Gag Reel
To Boldly Go (HD) – See description above
Casting (HD) – See description above
Aliens (HD) – See description above
Score (HD) – See description above
Starships (HD) – This chapter focuses on the unique stories behind the creation of the film's starships.
Planets (HD) – The art department had a number of radically different planets to create. Abrams' desire to shoot on real locations whenever possible led the production team to a number of strange and surprising locations.
Props and Costumes (HD) – Russell Bobbitt had the unique challenge of designing props that were both true to the original series and pertinent to today. Likewise, costume designer Michael Kaplan talks about how he designed costumes that paid homage to a classic.
Ben Burtt and the Sounds of Star Trek (HD) – When famed sound designer Ben Burtt was hired to create sounds for the first Star Wars film, he took his inspiration from the original "Star Trek" series.
Gene Roddenberry's Vision (HD) – J.J. Abrams, Leonard Nimoy, previous Star Trek writers and producers, and scientific consultant Carolyn Porco describe and commend the optimistic and enduring vision of Gene Roddenberry.
Starfleet Vessel Simulator (HD) – Explore extensive data on the U.S.S. Enterprise and the Romulan ship, the Narada. Submerse yourself in breathtaking 360° views and close-ups and review detailed tech information.
Trailers
Star Trek is out now on DVD and Blu-ray from Paramount
> Buy Star Trek on DVD and Blu-ray at Amazon UK
> Star Trek at the IMDb
> Explore more about the Star Trek franchise at Wikipedia