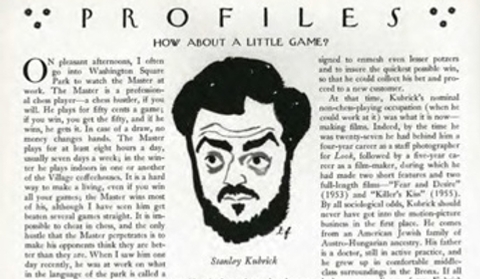 Audio recently surfaced online of Stanley Kubrick being interviewed by Jeremy Bernstein of The New Yorker in 1966 (listen to it here).
Sliated has some interesting PDF files which shed more light on the famous director who was then in the midst of filming 2001: A Space Odyssey.
One of them is a PDF of the final profile which ended up in the November 1966 issue.
But they also have an auction entry which shows the proofs of the profile with descriptions of the edits and annotations Kubrick wanted.
Last, but not least, there is a piece by Bernstein recalling the interview which include the following nuggets of information about the legendary director:
Kubrick had taken flying lessons but by the mid sixties never flew again as he considered it "too dangerous".
For his move to England he transported his possessions in 140 Boy Scout foot lockers.
He considered leaving the USA during the Cuban missile crisis and booked a boat trip to Australia with his family – but cancelled when he discovered he would have to share a bathroom with a neighbouring cabin.
Before moving to St Albans Kubrick lived in a large apartment on Central Park West.
2001 was shot at Elstree and during the filming Kubrick lived in a suite at the Dorchester Hotel.
Physics was the only course in high school in which he had gotten a decent grade.
Kubrick toyed with the idea of casting Jackie Mason (!) as the voice of HAL, although he may have been joking.
During one take of a scene when Keir Dullea (who played astronaut Dave Bowman) was talking to HAL he farted so loudly, it sounded like "a stupendous burst of machine gun fire".
The interview was recorded on one of Kubrick's tape recorders, upon which he did most of his screen writing.
When the film was first shown to the press and invited guests in New York Kubrick ran the projector himself and decided to cut around 17 minutes from this version.