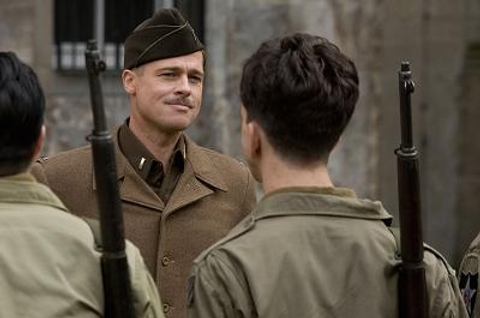 Quentin Tarantino has long been a favourite of the Cannes Film Festival, winning the Palme d'Or in 1994 with Pulp Fiction and heading the jury in 2004.
His latest film is Inglourious Basterds, which is set in Nazi-occupied France during World War II.
The plot follows a group of Jewish-American soldiers (led by Brad Pitt) whose mission is to kill Nazis, and the other follows a young Jewish woman (Mélanie Laurent) who seeks to avenge the death of her parents by the Nazis.
There has been a lot on anticipation for the film and here is a summary of the critical reaction, which ranges from mixed to disappointing.
Todd McCarthy of Variety calls it an entertaining fairytale:
'Inglourious Basterds' is a violent fairy tale, an increasingly entertaining fantasia in which the history of World War II is wildly reimagined so that the cinema can play the decisive role in destroying the Third Reich.

Tarantino's long-gestating war saga invests a long-simmering revenge plot with reworkings of innumerable genre conventions, but only fully finds its tonal footing about halfway through, after which it's off to the races.

By turns surprising, nutty, windy, audacious and a bit caught up in its own cleverness, the picture is a completely distinctive piece of American pop art with a strong Euro flavor that's new for the director."
Peter Bradshaw of The Guardian (a longtime fan of QT) is massively disappointed:
Quentin Tarantino's cod-WW2 shlocker about a Jewish-American revenge squad intent on killing Nazis in German-occupied France is awful. It is achtung-achtung-ach-mein-Gott atrocious.

It isn't funny; it isn't exciting; it isn't a realistic war movie, yet neither is it an entertaining genre spoof or a clever counterfactual wartime yarn. It isn't emotionally involving or deliciously ironic or a brilliant tissue of trash-pop references. Nothing like that.

Brad Pitt gives the worst performance of his life, with a permanent smirk as if he's had the left side of his jaw injected with cement, and which he must uncomfortably maintain for long scenes on camera without dialogue.
His Guardian colleague Xan Brooks also thinks the film is a mess:
"Quentin Tarantino's self-styled spaghetti-western war movie sends Hitler to the movies where, by God, he gets what's coming to him.

"For all that, 'Inglourious Basterds' remains a mess: an obese, pampered adolescent of a film that somehow manages to be both indolent and overexcited at the same time.

Oh sure, this adolescent is talented and has ambition and moxy to burn. But he's so bumptious, brattish and full of himself that it becomes a little wearing.

And what was with all those movie references? Michael Fassbender plays a heroic film critic, while Tarantino's script pays extended, obsequious tribute to French cinema and the auteur theory.

It all struck me as special pleading; the smarm-tactics of a schoolboy who has rushed through his homework and decides that his best hope is to butter up the teacher."
Mike Goodridge of Screen International has mixed feelings:
An intermittently-inspired World War II epic which illustrates both Quentin Tarantino's brilliance and his tendency towards indulgence, Inglourious Basterdsis composed of a series of long-running vignettes strung together by a slender story thread.

The problem is that no one character or set of characters runs through the entire two-and-a-half hour running time, and, with some of the scenes running up to half an hour each, the thread of the drama is left disjointed and the focus ever-changing.
Eric Kohn of indieWIRE thinks it lacks ambition:
"Given what the world expects from Quentin Tarantino – the man, the myth, the pastiche-driven movie machine – his latest feature, 'Inglorious Basterds,' stands out for its seemingly low ambition."

"'Basterds' lacks the crackly excitement of Tarantino's other efforts, mainly because he can't seem to tie the whole package together."
David Bourgeois of Movieline feels it was lightweight:
"'Inglourious Basterds' felt slight.

More time fleshing out characters and less time showcasing stylistic flourishes might have helped make it glorious indeed.
Sukhdev Sandhu of The Telegraph has some praise but feels it to be undistinguished:
"Casting Mike Myers and pal Eli Roth (director of 'Hostel') is self-indulgent, Christoph Waltz though, as a cackling and multi-lingual German colonel, makes for a terrific villain.

Long-time fans will enjoy the Morricone-slathered soundtrack, and the allusions to Kubrick and Henri-Georges Clouzot.

Cannes normally adores Tarantino (he won the Palme d'Or for 'Pulp Fiction'), but this time? It's not so much inglorious as undistinguished."
Dave Calhoun of Time Out has mixed feelings:
"You get the feeling with 'Inglourious Basterds' that Quentin Tarantino desperately wants to put away childish things. Nor is he hiding the fact.

Not only is Brad Pitt's closing line of the movie 'This may well be my masterpiece,' but 'Inglourious Basterds' is, a lot of the time, a little more restrained, a little quieter than we've come to expect from films like 'Death Proof' and 'Kill Bill.'…

For all its shallow pleasures, there's no getting away from the troubling theme of sadistic revenge at the heart of 'Inglourious Basterds', a theme that's hard to take seriously in such a movie, about such a period of history.
Alison Willmore of IFC thinks there is way too much talk:
The ratio of talk to action – not gun fights or explosions, but just people doing stuff – in 'Inglourious Basterds' is, generously, nine to one.

Again and again, characters sit down over drinks (whiskey, champagne, milk), and the stakes may be high, but the conversations are meandering and lengthy, and no matter how clever they may get, they end up defeated by their own pace and their writer's inability to let anything go."
Jeffrey Wells of Hollywood Elsewhere is disappointed and also thinks there is too much talking:
It's not great. It's a fairly engaging Quentin chit-chat personality film in World War II dress-up. It's arch and very confidently rendered from QT's end, but it's basically talk, talk, talk .

No characters are subjected to tests of characters by having to make hard choices and stand up for what they believe, and nobody pours their heart out. What they do is yap their asses off. Cleverly and enjoyably at times, yes, but brisk repartee does not a solid movie make.

The theme, I suppose is the penetrating and transformative power of film. The secondary theme is a Jewish revenge fantasy against the Nazis. (Costar Eli Rothcalled it "kosher porn" in this sense.)

No emotional currents, no sense of realism and no characters you're allowed to really and truly enjoy and care about.

It's an arch exercise in World War II genre filmmaking, a kind of filmic valentine for people who love film and film culture, and a put-on about World War II movies.
Mike D'Angelo of The AV Club thinks it the strangest film QT has made:
"Conceptually, this is easily the strangest film he's ever made, as well as the least commercially viable.

In terms of its tone, its rhythms, its (sorry, I have to) mise-en-scène, its moment-to-moment creativity and imagination and inventiveness, this is far and away the most ordinary film Tarantino has ever made….

I was never bored by 'Inglourious Basterds,' I was never terribly excited by it, either. It was just kind of… there, stuck in second gear, functioning like the longest decent B-movie programmer of all time."
J Hoberman of the Village Voice thinks it emblematic of QT's recent movies:
Inglourious Basterds' might well be QT's [masterpiece] – if by that we mean the fullest expression of a particular artist's worldview…

Perhaps one should call 'Inglourious Basterds' – a sort of World War II spaghetti western, even more drenched in film references than blood – quintessential Tarantino.

A little long, a bit too pleased with itself, it's a movie of enthusiastic performances, terrific dialogue, amoral, surprisingly crude, mayhem, and mind-boggling juvenile fantasy.

It proves once again that Quentin Tarantino really knows movies – and that movies may be all he really knows."
Check out the full press conference over at the official site.
> Inglorious Basterds at the IMDb
> Official site