DVD PICK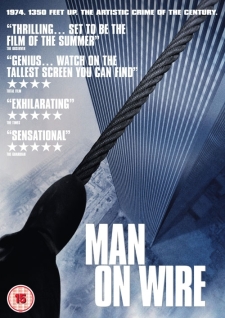 Man on Wire (Icon): In what is quite a barren Christmas period for notable DVDs, there is only one that truly stands out which is this stunning documentary by director James Marsh,who made Wisconsin Death Trip. 
It chronicles Frenchman Philippe Petit, who on August 7th 1974 gave an incredible high-wire performance by walking between between the Twin Towers of New York's World Trade Center eight times in one hour.
The act itself almost defies belief but what the film does brilliantly is capture the tension, beauty and brilliance of Petit's highly illegal operation. 
Born out of a dream and an idea, Petit and his team of accomplices spent eight months planning the execution of their 'coup' down to the most intricate detail.
Like a team of bank robbers planning their most ambitious heist, the tasks they faced seemed virtually impossible: they would have to bypass the WTC's security; smuggle the wire and rigging equipment into the towers; suspend the wire between the towers; secure the wire at the correct tension to withstand the winds and the swaying of the buildings; to rig it secretly by night – all without being caught.
Then there would be the walk itself.
One of the finest documentaries to come out in the last few years, the DVD has the following extras:
Audio commentary from James Marsh (director) and Simon Chinn (producer)
Interview with Phillipe Petit
Unseen footage
 * Listen to an interview we did with Philippe Petit about the film *
Man on Wire is released on Friday 26th December
[ad]
ALSO OUT
Friday 26th December 
Battle of Wits (Metrodome)
Lipstick Jungle – Season 1 (Universal Playback)
Mum & Dad (Revolver Entertainment)
Steep (Metrodome)
The Love Guru (Paramount)
The Strangers (Universal)
Monday 29th December 
Babylon A.D. (Fox)
Bangkok Dangerous (EIV)
Ben X (Momentum)
Cass (Optimum)
Death Note: L – Change the World (4 Digital Asia)
Doctor Who: Battlefield 2 (2Entertain)
Hellsing Ultimate Volume 2 (Manga)
Make it Happen (Optimum)
Naruto The Movie 2 : Legend of the Stone of Gelel (Manga)
[ad]
> Buy Man on Wire at Amazon UK
> Browse more DVD Releases at Amazon UK and Play
> Check the latest DVD prices at DVD Price Check
> Take a look at the current UK cinema releases (W/C Friday 12th December)