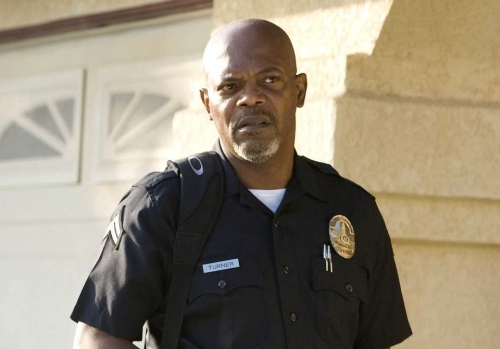 Lakeview Terrace is a contemporary drama set in LA about a young couple (played by Patrick Wilson and Kerry Washington) who move in to an upmarket neighbourhood next to a sinister police officer (Samuel L Jackson) who begins to make their life very difficult.
Directed by Neil LaBute, it explores some of the uncomfortable prejudices beneath contemporary US society.
I spoke to Samuel L Jackson back in late August and we discussed the film, the US elections and the Ryder Cup.
Listen to the interview here:
[audio:http://filmdetail.receptionmedia.com/Samuel_L_Jackson_on_Lakeview_Terrace.mp3]
Download it as a podcast via iTunes by clicking here.
Lakeview Terrace is out at UK cinemas from Friday
> Download this interview as an MP3 file
> Get showtimes for the film via Google Movies 
> Samuel L Jackson at the IMDb
> Official website for Lakeview Terrace
> Listen to an interview we did in 2006 with Samuel about Snakes on a Plane