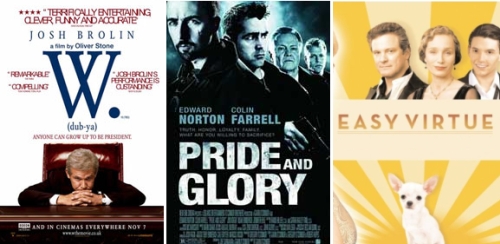 NATIONAL RELEASES
W. (Lionsgate): Oliver Stone's quickly assembled biopic of George W Bush is a much more accomplished and thoughtful film than some UK reviews would have you believe. Starring Josh Brolin as Bush, it explores his life in flashback through the lens of the Iraq War in 2002-2004. An impressive cast includes Elizabeth Banks (Laura Bush), James Cromwell (George H. W. Bush), Ellen Burstyn (Barbara Bush), Richard Dreyfuss (Dick Cheney), Thandie Newton (Condoleezza Rice) and Toby Jones (Karl Rove) and the performances are generally very good, especially Brolin in what is a very tough role. The script by Stanley Weiser and Stone does a fine job at compressing Bush's life through the lens of it's defining episode. Stone deserves credit for attempting to get inside the head of the maligned president and not just indulging in a blunt hatchet job. However, the nuances of the film may be lost amongst liberals who hate him and the conservatives who still champion him and those in the middle trying to forget him. The plan for the film (independently financed with Chinese, German and Australian money) was for a timely release around the recent election. However, the election race itself has been more exciting than any script writer could have imagined whilst Bush has effectively been a ghost president for the last year. That will probably mean reduced box office here in the UK, especially with Quantum of Solace dominating the multiplexes, which is a shame as this is a brave attempt to chronicle the life and times of the 43rd president. [Cert 15]
Pride and Glory (Entertainment): A contemporary police drama about a multi-generational police family in New York whose morals are tested when one of two sons (Edward Norton) investigates a case involving his older brother (Noah Emmerich) and brother-in-law (Colin Farrell). Directed by Gavin Connor (who made Tumbleweeds and Miracle), it is a decent and commendably gritty look at modern urban policing and the tensions that ensue when families are added to the mix. For some reason New Line Cinema (before they were absorbed into Warner Bros) decided to sit on the film for several months and some – including Farrell -speculated that the failure of The Golden Compass left them without any real money to market it. However, although it isn't a masterpiece it is an absorbing 70's style cop drama with a commendably down and dirty tone. The decent cast and word of mouth might propel it towards some reasonable box office business but given the lack of heavy marketing and the Bond factor, it will do well to crack the top 5 at the UK box office.  
Easy Virtue (Pathe): A social comedy based on Noel Coward's play of the same name which was itself  made into a silent movie by Alfred Hitchcock in 1928. This version has been reshaped by director by Stephan Elliott as a much frothier concoction. It stars Jessica Biel as an American socialite who marries a young Englishman (Ben Barnes) in the South of France before going to England to meet his stiff, uppercrust parents (Colin Firth, and Kristin Scott Thomas). Whilst the setup might sound very familiar, the end result is actually a much more energetic affair with more laughs than you might expect. Biel in particular, impresses in her most substantial role to date and Elliott wisely doesn't take things too seriously but at the same time also gets in some nice digs at the joyless nature of the British upper classes. 
[ad]
IN SELECTED RELEASE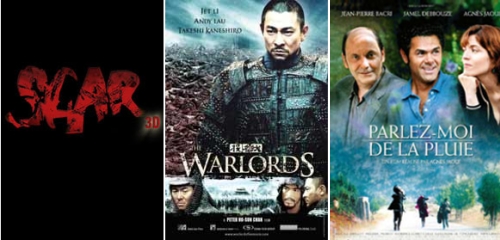 Scar 3-D (The Works): Yet another horror film unleashed at the multiplexes around Halloween, this would appear to be a Saw rip-off, only with added bonus of being in 3D. The plot follows a woman (Angela Bettis) as she is tormented by a serial killer who had previously kidnapped and tortured her. [Cert 18]  
The Warlords (Metrodome): An Asian martial arts epic directed by Peter Chan and starring Jet Li, Andy Lau and Takeshi Kaneshiro as three blood brothers and their struggle in the midst of war and political upheaval. Set in the 1860s, during the Taiping Rebellion in the late Qing Dynasty in China it is the tale of how the brothers who are forced to turn against one another in harsh times. [Cert 15] 
Let's Talk About The Rain (Artificial Eye): A French comedy from director Agnès Jaoui, who also stars as a writer with an eye to a political career. When she returns to the south of France to deal with the death of her mother she meets two film-makers (Jean-Pierre Bacri and Jamel Debbouze) who persuade her to be the subject of a documentary. [Cert 12A]
OSS 117: Cairo – Nest Of Spies (ICA Films): A run at the ICA in London for this spy spoof, a French spin on their own secret agent franchise, based on the numerous OSS 117 novels of Jean Bruce, which actually pre-dated Fleming's novels. Directed by Michel Hazanavicius it starts comedian Jean Dujardin as an agent who's sent out to revolutionary Egypt in 1955 on a mission to 'make the Middle East safe.' [Cert 12A]
EK Vivaah…. Aisa Bhi (Eros): A Bollywood movie from director Sooraj R. Barjatya that features Sonu Sood and Eesha Koppikar as two lovers who are just about to get married before destiny has different plans for them. 
[ad]
If you have any questions about this week's cinema releases or any upcoming titles then just email me or leave a comment below.
> Get local showtimes for a cinema near you via Google Movies (just enter your local postcode)
> The rest of the UK cinema releases for November 2008
> Check out our latest DVD picks for this week (From Monday 3rd November 2008)