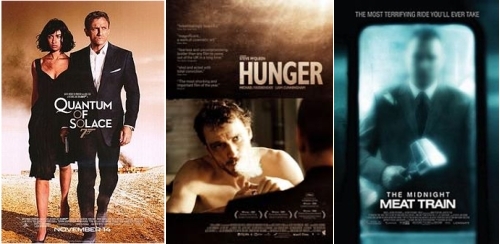 NATIONAL RELEASES
Quantum of Solace (Sony): The latets Bond film arrives at UK cinemas on a huge wave of expectation and hype, not least because it's predecessor Casino Royale was the highest grossing Bond movie ever, but because Daniel Craig helped re-establish the character for a new generation. The plot takes off just minutes after the last film and sees 007 investigate the mysterious Quantum organisation, led by the enigmatic Dominic Greene (Mathieu Amalric). Along the way he hooks up with a vengeful woman named Camille (Olga Kurylenko) and regularly incurs the displeasure of his boss M (Judi Dench) by aggressively pursuing those responsible for the death of Vesper Lynd (his lover from the last film). Whilst Craig still impresses as a leaner and meaner spy, the problem here appears to be the choice of Marc Forster as director. Best known for character based films like Monster's Ball and Finding Neverland, he handles the quieter scenes well but doesn't have a grip on the multiple action sequences which have none of the adrenaline rush of the recent Bourne or Batman films. It has already received mixed reviews but this is going to absolutely kill at the UK box office this weekend – the only question will be if it can surpass the amazing gross of the last film. [Cert 12A]
Hunger (Pathe): The feature debut of Turner prize winning artist Steve McQueen is a riveting look at the 1981 Irish hunger strike. The story explores a key episode of the Troubles, when IRA prisoners in the Maze led by Bobby Sands (Michael Fassbender), went on a protracted hunger strike in order to apply pressure against the British government, so that they could be classed as political prisoners. This isn't a polemic for any side but does take the viewer inside the raw and brutal world of the Maze prison, as well as depicting the terror and violence outside. In the role of Sands, Fassbender gives an incredible performance, but there is also some fine work too by Liam Cunningham as the prison chaplain – one mesmerising sequence between them is shot in a 17 minute unbroken take. The widescreen lensing by Sean Bobbit and the radical direction by McQueen make for a brutal but astonishing film. Although this is one of the best films of the year, I think Pathe are taking a huge risk in opening the same week as Bond. Whilst counter-programming an art-house release against a blockbuster can be a canny move, Bond is one of those franchises with an enormously wide appeal across every demographic. It could be that Hunger just gets lost amidst all the 007 hype, which would be a shame because it has had some really good press and marks the arrival of a major new directing talent. [Cert 18]
* Listen to our interview with Liam Cunningham about Hunger *
The Midnight Meat Train (Lionsgate): Although Lionsgate haven't exactly busted their marketing budget for this horror film they'll be hoping horror fans will be checking it out this Halloween. Based on Clive Barker's 1984 short story of the same name, about a photographer who tries to track down a serial killer (played by Vinnie Jones) dubbed the 'Subway Butcher'. It had an interesting release in the US with fans reportedly upset that Lionsgate were effectively dumping the film before a quick DVD release. It is directed by Ryuhei Kitamura and for this kind of material has an OK cast which includes Bradley Cooper, Leslie Bibb, Vinnie Jones and Brooke Shields. Given the lack of awareness it would be surprising if this did any serious box office, but could become some kind of cult favourite. [Cert 18]
[ad]
IN SELECTED RELEASE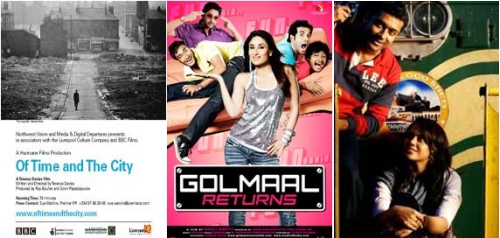 Of Time And The City (BFI): A documentary by Terence Davies which recalls his life growing up in Liverpool during the 1950's and 1960's, using archive newsreel and documentary footage along with his own voiceover. It premiered at Cannes back in May to very warm reviews and was the first film by Davies since The House of Mirth, his Edith Wharton adaptation, in 2000. The BFI are giving it a limited release in key cities but with the strong reviews, it could do some healthy art-house business. [Cert 12A]
Golmaal Returns (Shree Ashtavinayak Cine Vision): A Bollywood release directed by Rohit Shetty. It is a sequel to the 2006 film, Golmaal with Ajay Devgan, Tusshar Kapoor and Arshad Warsi reprising their roles and Shreyas Talpade reprising the role originally played by Sharman Joshi. Kareena Kapoor, Anjana Sukhani, Amrita Arora and Celina Jaitley are new additions to the cast. 
Vaaranam Aayiram (Ayngaran International): A Tamil film directed by Gautham Menon, with Surya Sivakumar acting in dual lead roles, whilst Sameera Reddy, Divya Spandana and Simran Bagga co-star. 
[ad]
If you have any questions about this week's cinema releases or any upcoming titles then just email me or leave a comment below.
> Get local showtimes for a cinema near you via Google Movies (just enter your local postcode)
> Check out our latest DVD picks for this week (From Monday 27th October 2008)