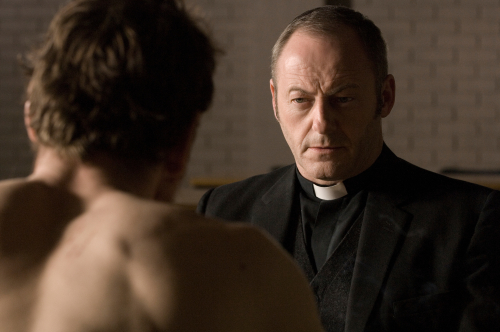 Liam Cunningham is one of the actors in the new film Hunger, which deals with the 1981 IRA hunger strike and marks the feature film debut for director Steve McQueen.
Although he only appears in one scene, it is an extraordinary unbroken sequence in which plays a priest who questions Sands about the wisdom of his actions.
The film premiered to great acclaim at the Cannes Film Festival and recently screened at the London Film Festival, which was when I spoke to Liam.
You can listen to it here:
[audio:http://filmdetail.receptionmedia.com/Liam_Cunningham_on_Hunger.mp3]
Download it as a podcast via iTunes by clicking here.
Hunger opens at selected UK cinemas on Friday 31st October
> Download the interview as an MP3 file
> Official UK site for Hunger
> Liam Cunningham at the IMDb
> Read our recent LFF piece on Hunger and a longer review from last month
> Green Cine Daily with the reactions to Hunger at Cannes earlier this year
> Find out more about the 1981 Hunger Strike at Wikipedia