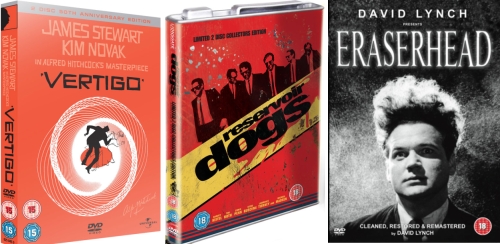 DVD PICKS
Vertigo (50th Anniversary Edition) (Universal): Alfred Hitchcock's classic tale of a private investigator (James Stewart) who becomes obsessed with a blonde woman (Kim Novak) returns to DVD, celebrating its 50th anniversary with a two-disc set boasting new extra features.
These include: 
Feature Commentary with Associate Producer Herbert Coleman, Restoration Team Robert A. Harris and James C. Katz
'Obsessed with Vertigo' – A making of documentary
'Partners in Crime: Hitchcock's Collaborators' – New documentary
'Hitchcock and the Art of Pure Cinema' – New featurette
The Vertigo Archives
Hitchcock/Truffaut Interviews
Although it isn't quite the masterpiece some critics have claimed, it still is one of Hitchcock's most interesting films. Not only is it a deceptively dark tale of desire and obsession but it also appears to reflect a lot of Hitchcock's own personal concerns. The slow pace and haunting tone to the film along with some beautiful production design make it one of his most unusual and durable films. [Cert 15]
Reservoir Dogs (2-Disc Collector's Edition) (Lionsgate): The stunning debut film of writer-director Quentin Tarantino became an instant cult favourite in 1992 and established him as one of the hottest directors of the 1990s. It followed a group of gangsters, who all refer to one other by colour-coded pseudonyms, and the aftermath of a heist gone wrong. Previously released in the UK by Momentum, Lionsgate have taken over distribution duties and this 2-disc edition appears to match their 2006 15th Anniversary Edition Region 1 release.
The extras include: 
Limited edition petrol can steel case with matchbox inlay
Collector's art cards
Newly remastered/6.1 DTS-ES audio/5.1 Digital Surround EX audio
Pulp Factoid Viewer
Playing It Fast and Loose
Tipping Guide
Commentary with Quentin Tarantino, cast and crew
Deleted Scenes
The Critics' Commentary
Profiling the Reservoir Dogs
Class of '92 – Sundance interviews
Tarantino's Sundance Institute Film-makers Lab
An Introduction to Film Noir – Writers and Film-makers feature
Reservoir Dolls
Securing the Shot – Location Scouting with Billy Fox
Reservoir Dogs style guide
Dedications – Tarantino on his influences
Interviews with Quentin Tarantino and others
K-Billy Super Sounds of the '70s
If you don't already own this seminal film then this is a very solid package. [Cert 18]  
Eraserhead (Scanbox): Director David Lynch made his feature length debut with this surreal story of a retired printer (Jack Nance) stuck in dark, urban landscape. Lynch has supervised a brand new transfer, overseeing the painstaking process of cleaning, restoring and remastering the film frame-by-frame. It still remains a classic cult film and as Lynch once said, a 'dream of dark and troubling things'. The extras include an interview with David Lynch about the making of the film. [Cert 18]
[ad]
ALSO OUT
Anaconda 3: Offspring (Sony)
Casino Royale (3-Disc Deluxe Edition) (Sony)
CBeebies: Bedtime (BBC)
Dear Ladies – Series 2 (Acorn Media)
Dr. Seuss' Horton Hears a Who! (Fox)
Killer Of Sheep (BFI)
My Brother's Wedding (BFI)
Orphee (BFI)
Family Guy – Peter Griffin – Best Bits Exposed (Fox)
Shaun The Sheep – Abracadabra (2 Entertain)
Sisters (Sony)
Solstice (Icon)
That Mitchell And Webb Look – Series 2 (Fremantle)
The Benny Goodman Story (Eureka)
The Clouded Yellow (Eureka)
The Horses Mouth (Eureka)
The Short Films of David Lynch (Scanbox)
The Unit – Season 3 (Fox)
Tortured (Sony)
Triangle (Manga)
Vanessa (Severin Films)
Wanted (Universal)
[ad]
If you have any questions about this week's DVD releases or any upcoming titles then just email me or leave a comment below.
> Buy Vertigo, Reservoir Dogs or Eraserhead on DVD at Amazon UK
> Browse more DVD Releases at Amazon UK and Play
> Check the latest DVD prices at DVD Price Check
> Take a look at the current UK cinema releases (W/C Friday 17th October)