Here is the rundown of the UK cinema releases this week.
NATIONAL RELEASES
You Don't Mess With The Zohan (12A): Sony will be hoping this Adam Sandler comedy will takes a significant bite into The Dark Knight and The Mummy 3's box office. Although Sandler's comedies tend to do better in the US than over here, the fact that this was co-written and produced by Judd Apatow (who Sandler has known for a long time) might help it's prospects. Despite a tepid reaction from sniffier UK critics, heavy marketing and audience word of mouth could help it crack the top 3 slot.
Star Wars: The Clone Wars (PG): Although Star Wars usually signals box office gold, this animated feature (dealing with events between Attack of the Clones and Revenge of the Sith) is something of a curiosity. It wasn't initially planned to be a feature, but George Lucas thought it would be a good launch pad for the upcoming animated series. Only three of the actors from the prequels (Christopher Lee, Samuel L Jackson, Anthony Daniels) reprise their roles and although Star Wars has a huge fanbase, it will have to overcome some bad early buzz to make a dent on the top three. Interestingly Warner Bros are distributing this rather than Fox, who up to now have released all the Star Wars movies.
Wild Child (12A): Working Title (and their distributor Universal) venture into the tween market with this film about an LA girl (Emma Roberts – best known for her role in the Nickelodeon show Unfabulous) shipped off to an English boarding school. Given that it is the summer holidays, the target audience for this kind of material is plentiful but a lack of genuine star names and plenty of box office competition may hinder its chances.
IN SELECTED RELEASE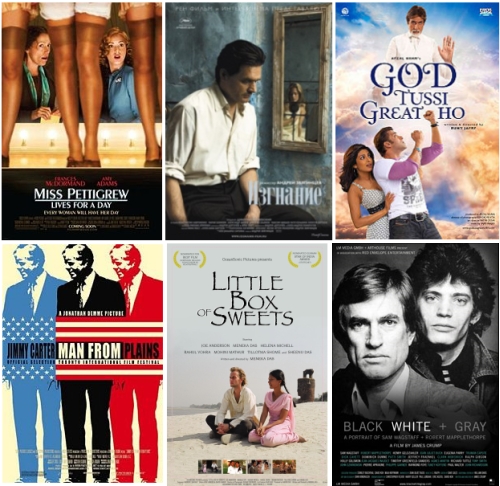 Miss Pettigrew Lives For A Day (PG): This World War 2 period comedy with Frances McDormand and Amy Adams, based on the 1938 novel by British author Winifred Watson, didn't exactly light up the US box office back in March. But given that it was filmed here in the UK, Momentum will be hoping it will appeal to an older audience with it's cosy retro vibe. Directed by Bharat Nalluri (best known for TV work such as Life on Mars and Hustle) it seems more likely to find an audience on DVD. (Showing in key cities)
The Banishment (Izgnanie) (12A): Artificial Eye give a limited release to the second film from director Andrey Zvyagintsev (who made The Return in 2003) which deals with a family moving to an old house in the Russian countryside.  (Showing in London at the Curzon Soho , The Gate, Renoir, Richmond Filmhouse & other key cities)
God Tussi Great Ho (12A): Eros release this Bollywood remake of Bruce Almighty, which stars Salman Khan, Amitabh Bachchan and Priyanka Chopra in the lead roles. (Showing at Cineworld Cinemas in Feltham and Ilford, Shaftesbury Ave, Vue 02 & Key Cities)
Jimmy Carter Man From Plains: The BFI are giving a limited run to this Jonathan Demme documentary about former US president Jimmy Carter at the BFI Southbank in London.
Little Box Of Sweets: An Indian film about a village girl named Asha who falls in love with her childhood friend Seth (Joe Anderson), the half-English son of a local commissioner. Oceansonic Pictures will give it a limted run at the ICA Cinema in London & selected key cities.
Black White & Gray : Revolver release this documentary (directed by James Crump) about the relationship between curator Sam Wagstaff, photographer Robert Mapplethorpe and musician/poet Patti Smith in a limted run at the ICA Cinema in London.
If you have any questions about this week's cinema releases or any upcoming titles then just email me or leave a comment below.
> Get local showtimes via Google Movies (just enter your local postcode)
> Find out about films showing near you at MyFilms
> Check out the DVD releases for this week (W/C Monday 11th August)