Here are the films out in UK cinemas this week.
NATIONAL RELEASES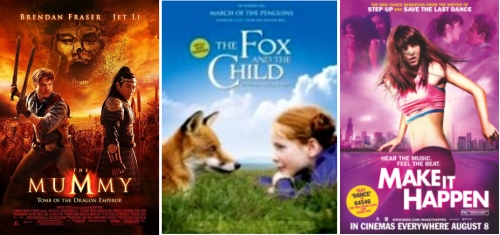 The Mummy: Tomb Of The Dragon Emperor (12A): One of Universal's tent pole releases for this summer got released on Wednesday to capitalise on the summer holiday. The third film in the action-adventure franchise pits Brendan Fraser against an ancient Chinese warrior, but all the special effects and epic scale of the film can't hide Rob Cohen's sloppy direction and the fact that this franchise feels as dead as the title character. The waste of Asian icons like Jet Li and Michelle Yeoh, plus the miscasting of Maria Bello (replacing Rachel Weisz) only adds to the sense of woe. [Opens nationwide]
The Fox And The Child (U): Director Luc Jacquet scored a surprise hit documentary in 2005 with March of the Penguins and his latest film is a simple but charming tale (narrated by Kate Winslet) of the relationship between a young French girl and the fox she befriends. Pathe have marketed this like a traditional children's film and will be hoping for family audiences eager for something other than Kung Fu Panda or WALL-E. However, adults taking their kids may be pleasantly surprised at the thought and craft that has gone into making it.  [Opens nationwide]
* Listen to our interview with Luc Jacquet about The Fox and the Child *
Make It Happen (PG) Another dance film in the mould of Flashdance and Save the Last Dance which sees Mary Elizabeth Winstead as a young dancer trying to make the big time in Chicago. Optimum will be hoping that this attracts the Bebo demographic (the official UK site is hosted there) and follow in the footsteps of recent dance films that have done decent box office. [Opens nationwide]
IN SELECTED RELEASE

Elegy (15): The latest adaptation of a Philip Roth novel hits the big screen with Ben Kingsley playing a cultural critic afraid of committing to a relationship with a younger woman (Penélope Cruz). Altough Roth has often been poorly served on the big screen, the choice of Isabel Coixet to direct proved an inspired one as she coaxes out fine performances from an impressive cast that also includes Dennis Hopper, Patricia Clarkson, Peter Sarsgaard and Debbie Harry. Entertainment will be hoping the solid name cast leads to decent business amongst more discerning audiences. [Opens in key cities]
* Listen to our interview with Ben Kingsley about Elegy *
Death Defying Acts (PG): This supernatural romantic thriller directed by Gillian Armstrong stars Guy Pearce as escapologist Harry Houdini in the height of his career in the 1920s. Despite the presence of co-star Catherine Zeta Jones this got released last month in the US by The Weinstein Company to mixed reviews and a distinct lack of fanfare. Lionsgate are releasing it over here (where it was largely filmed) but it's prospects for making much cash look slim given the lack of marketing and awareness for it. (Opens in key cities]
Elite Squad (18): The winner of the Golden Bear at this year's Berlin Film Festival is a semi-fictional look at the BOPE (the Special Police Operations section of the Rio de Janeiro Military Police). It is the feature debut of director José Padilha, who had previously made the documentary Bus 174. Optimum will be looking for decent art house buzz and audiences hungry for another brutal slice of Brazilian realism. [Opens in key cities]
Blindsight (PG): Set against the backdrop of the Himalayas, this documentary directed by Lucy Walker follows six blind Tibetan teenagers as they climb a mountain in the shadow of Mount Everest. Spark Entertainment will be hoping this award winning and critically acclaimed documentary can generate good word of mouth in a limited release. [Opens at the ICA in London & selected key cities]
CJ7 (PG): A science fiction/comedy from Hong Kong co-written, co-produced and directed by Stephen Chow, who also stars in the film. [In limited release at London's BFI Southbank]
Singh Is Kinng (PG): A Hindi film starring Akshay Kumar and Katrina Kaif that was mostly shot in Australia. The UK distribuotr is Studio 18. [Opens at the Cineworld in Ilford, Wood Green, Wandsworth & selected cinemas nationwide].
If you have any questions about this week's cinema releases or any upcoming titles then just email me or leave a comment below.
> Get local showtimes via Google Movies (just enter your local postcode and search)
> Find out about films showing near you at MyFilms
> Check out the DVD releases for this week (W/C Monday 4th August)