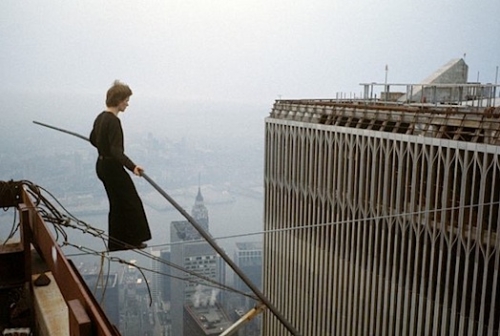 On August 7th 1974 Philippe Petit gave an incredible high-wire performance by walking between between the Twin Towers of New York's World Trade Center eight times in one hour.
It is the subject of a new documentary called Man on Wire from director James Marsh (who made Wisconsin Death Trip) and I recently spoke to Philippe about his historic wire walk and the film.
You can listen to the interview here:
[audio:http://filmdetail.receptionmedia.com/Philippe_Petit_on_Man_on_Wire.mp3]
Download it as a podcast via iTunes by clicking here.
Watch the trailer for the film here:
Man on Wire is out at selected UK cinemas this Friday
> Download this interview as an MP3 file
> Official UK site and IMDb entry for Man on Wire
> Reviews of Man on Wire at Metacritic
> NY Times article on Philippe from 2006
[All images © 2008 Jean-Louis Blondeau / Polaris Images & Magnolia Pictures / Icon Film Distribution]