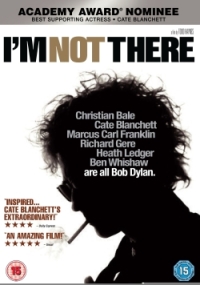 I'm Not There was an audacious and brilliantly executed examination of the life and music of Bob Dylan.
Writer-director Todd Haynes inverted the usual music biopic formula by having six different actors play a version of the enigmatic singer-songwriter.
Marcus Carl Franklin, Ben Whishaw, Christian Bale, Cate Blanchett, Richard Gere and Heath Ledger all play characters based on Dylan and the film is a patchwork of different stories based on chapters of his life.
Franklin is the young guitar player, Wishaw the budding poet, Bale the folk icon (and later the born again Christian), Blanchett the iconic 60s rock star, Gere the actor on a Western and Ledger the disillusioned 70s celebrity.
Although this approach might seem a little esoteric it has the effect of tapping right into the themes and brilliance of Dylan's music, which is plastered all over the film.
The performances are excellent with Blanchett in particular standing out as arguably the most famous version of Dylan – the jaded, chain smoking iconoclast familiar to viewers of D.A. Pennebaker's 1967 documentary Don't Look Back.
Perhaps most poignant section, given his untimely death in January, is the section with Heath Ledger portraying the Blood on the Tracks-era Dylan. He again demonstrates what a fine actor he could be given the right role.
The soundtrack is also similarly inventive, with the likes of Sonic Youth, Cat Power, Yo La Tengo, The Hold Steady and Antony & The Johnsons all contributing cover versions of Dylan songs. It also features a previously unreleased Dylan recording of the title track 'I'm Not There'.
The DVD includes over one hour of special features, including a tribute to the late Ledger, a conversation with the director and a look at the making of the soundtrack.
They include:
2.35:1 Anamorphic Widescreen
English DD5.1 Surround:
Introduction to the Film
Commentary by director/co-writer Todd Haynes
A Conversation with Todd Haynes (40:50mins)
Making the Soundtrack (20:15mins)
A Tribute to Heath Ledger (3:09mins)
Dylanography (Character galleries, discography, bibliography and chronology)
Check out the trailer here:
I'm Not There is out now on DVD from Paramount Home Entertainment
> Buy I'm Not There on DVD from Amazon UK
> I'm Not There at the IMDb
> Reviews of I'm Not There at Metacritic
> SpoutBlog's coverage of Todd Haynes discussing the film at the NY Film Festival
> Find out more about Bob Dylan's life and music at Wikipedia