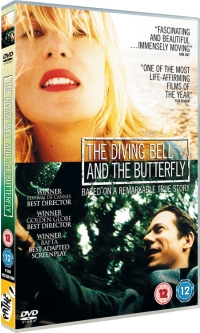 The Diving Bell and the Butterfly was one of the major cinematic achievements of the past year – a film of outstanding technique and extraordinary emotional depth.
It is adapted from the memoir of Jean-Dominique Bauby, the editor of French Elle magazine who's privileged life came to a halt after a devastating stroke  left him with Locked-in Syndrome – a condition which meant he could only move his left eye.
The film documents his struggle in hospital as he gradually learns how to communicate by blinking to speech therapists as they recite the most used letters of the alphabet.
Director Julian Schnabel brought a sense of beauty and wonder to a difficult story and Ronald Harwood's script found a clever way of dealing with the seemingly unfilmable aspects of the original book.
The way in which things are shot from the central character's point of view is ingenious and also highly effective in conveying his condition.
Performances across the board are first rate, with Mathieu Amalric outstanding in the lead role and excellent support too from Emmanuelle Seigner, Marie-Josée Croze and Max Von Sydow.
In a year of dark films, this was notable in that it found hope, humour and humanity amidst the terrible condition of its main character.
It didn't really get the audience it deserved at cinemas, so it is essential viewing now if you missed it first time around.
Pathe have done a fine job on the DVD release which contains the following extras:
Feature commentary with director Julian Schnabel

: An engaging and thoughtful commentary from Schnabel which manages to convey his ideas about the film without overdoing the anecdotes. The film clearly means a lot to him and his comments are enlightening about the real life Bauby and how the film was constructed.

Submerged

: The Making of The Diving Bell and the Butterfly (12 mins): This behind the scenes featurette contains interviews with the filmmakers and producers detailing their involvement and thoughts about the film.

Cinematic Vision

(7 mins): Producers John Killick, Kathleen Kennedy and cinematographer Janusz Kaminski explain the experience of working with Schnabel.

Charlie Rose interviews Julian Schnabel

(20 mins): A meaty interview which provides a decent overview of the story and how Schnabel ended up making the film.
Check out the trailer for the film here:
The Diving Bell and the Butterfly is out now on DVD from Pathe
> Buy the DVD from Amazon UK
> IMDb entry
> Official site
> Read other reviews at Metacritic (it scores a highly impressive 92/100)
> Find out more about Jean-Dominique Bauby at Wikipedia