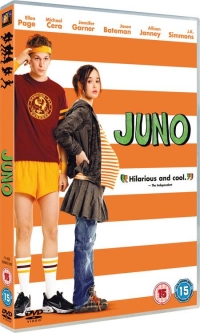 One of the most surprising and charming hits of last year was Juno.
The title character is a teenage girl (Ellen Page) who has to deal with an unexpected pregnancy by her best friend (Michael Cera) and decides to give up the baby to an adoptive couple (Jason Bateman and Jennifer Garner).
It also stars J. K. Simmons as her father, Allison Janney as her stepmother and Olivia Thirlby as her best friend Leah.
Directed by Jason Reitman and scripted by Diablo Cody it was nominated for several Oscars (with Cody winning Best Original Screenplay) and went on to become Fox Searchlight's first film to gross over $100 million at the box office.
It stands up well on a second viewing and although the sharp and witty dialogue was probably what most people loved first time around, the emotional undercurrents and nuanced performances are what stand out when revisiting the film.
Fox have done a good job on the DVD with a solid transfer and some nice extras which include:
Audio Commentary with Jason Reitman and Diablo Cody

: An excellent commentary from the director and screenwriter. They make a highly engaging pair as they reel off anecdotes about the production including bloopers (like the abortion clinic door and the wrong phone codes in the Pennysaver), ideas behind certain scenes, the actors on screen and the fact that the DJ Cut Chemist actually play's Juno's chemistry teacher.

Deleted Scenes

(with optional commentary by Reitman & Cody): The deleted scenes are nearly all of the 'I-can-see-why-they-were-deleted' variety and often quite short, but there are a couple of notable sequences including an alternate montage of the film's climax with a rockier music track.

Gag Reel

: A collection of outtakes with a variety of actors corpsing.

Gag Take

: An intriguing outtake of a scene in the shop where Rainn Wilson (who plays the guy behind the counter) gets into an argument with Reitman about how to hold shopping bags. It actually looks like a real on-set spat but given that it is called a 'gag reel' then maybe its some kind of joke. Ellen Page's instant reaction to an insult is particularly funny.

Cast & Crew Jam

: A weird motange of the cast and crew jamming with instruments.

Screen Tests

: These are sometimes included on DVDs and in the case of this film are interesting raw versions of scenes from the film. The tests with Page and Cera stand out as you can see how they nailed their roles even at an early stage.

Featurettes

: There are several mini-documentaries that focus on various aspects of the production including 'Way Beyond Our Maturity Level: Juno-Leah-Bleeker', 'Diablo Cody is Totally Boss', 'Jason Reitman for Shizz' and 'Honest to Blog! Creating Juno'. All of them have some interesting parts but they tend to be the kind of EPK on set interviews that crop up on traditional 'making of' shows.
Here is a trailer for the film:
Juno is out on DVD today from Fox Home Entertainment
> Buy the DVD from Amazon UK
> Juno at the IMDb
> Read more reviews at Metacritic
> Official UK website