Charlie Kaufman is best known as the screenwriter of Being John Malkovich, Adaptation and Eternal Sunshine of the Spotless Mind.
His directorial debut is Synecdoche, New York and it screened today in competition at Cannes.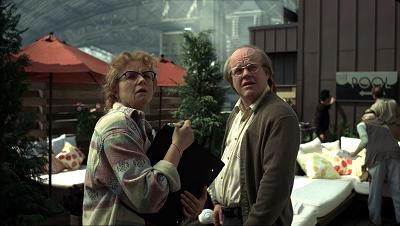 It stars Philip Seymour Hoffman as a theatre director in Schenectady, New York who has to cope with his wife leaving him and a mysterious illness.
Worried about his life, he moves his theater company to a warehouse where he attempts to create a life-size replica of New York as part of his new play. Catherine Keener, Michelle Williams, Samantha Morton and Hope Davis co-star.
Here is a summary of the critical reaction:
Todd McCarthy of Variety praises it as 'wildly ambitious' and 'overreaching':
Like an anxious artist afraid he may not get another chance, Charlie Kaufman tries to Say It All in his directorial debut, "Synecdoche, New York."

A wildly ambitious and gravely serious contemplation of life, love, art, human decay and death, the film bears Kaufman's scripting fingerprints in its structural trickery and multi-plane storytelling.

At its core a study of a theater director whose life goes off the rails into uncharted artistic territory, it's the sort of work that on its face appears overreaching and isn't entirely digestible on one viewing.
A.O. Scott of the New York Times enjoys the ideas, invention and humour of the film:
Mr. Kaufman, the wildly inventive screenwriter of 'Being John Malkovich' and 'Eternal Sunshine of the Spotless Mind', has, in his first film as a director, made those efforts look almost conventional.

Like his protagonist, a beleaguered theater director played by Philip Seymour Hoffman, he has created a seamless and complicated alternate reality, unsettling nearly every expectation a moviegoer might have about time, psychology and narrative structure.

But though the ideas that drive "Synecdoche, New York" are difficult and sometimes abstruse, the feelings it explores are clear and accessible.

These include the anxiety of artistic creation, the fear of love and the dread of its loss, and the desperate sense that your life is rushing by faster than you can make sense of it.

A sad story, yes, but fittingly for a movie bristling with paradoxes and conundrums, also extremely funny.
Allan Hunter of Screen Daily raves about the film's 'staggering imagination':
Charlie Kaufman is a past master of ingenious conceits and wild flights of fantasy as witnessed particularly in Being John Malkovich and Enternal Sunshine of the Spotless Mind.

His talent has always been filtered through the vision of a sympathetic director but with Synecdoche, New York he assumes the director's role for the first time.

The result is a film of staggering imagination, more daring in content than form as it explores the unbearable fragility of human existence and the sad inevitability of death.
James Rocchi of Cinematical thinks it is a 'sprawling, messy work of inspired brilliance':
The directorial debut of screenwriter Charlie Kaufman (Eternal Sunshine of the Spotless Mind, Adaptation), Synecdoche, New York is a sprawling, messy work of inspired brilliance and real humanity, a film that enthralls and affects even as it infuriates and confounds.

…Synecdoche, New York is bolder and bigger and weirder than the movies that sprang from Kaufman's scripts for Spike Jonze (Being John Malcovich, Adaptation) and Michel Gondry (Human Nature, Eternal Sunshine of the Spotless Mind); it's also colder and crueler than those films.
Jeffrey Wells of Hollywood Elsewhere says the film is a:
…semi-nourishing, semi-tortured Fellini-esque Chinese box mindfuck-dreamscape…
Anne Thompson of Variety reported recently that the fim screened for buyers earlier in the week:
Sidney Kimmel Entertainment and UTA decided to invite all the top buyers to an early Saturday market screening, well before all the critics and press would pass judgement.

If there was ever a movie perfect for Cannes it is this one, which is, according to those who have read the script and seen it, ambitious, arty and brilliant, if not entirely accessible.
This is the first one sheet poster: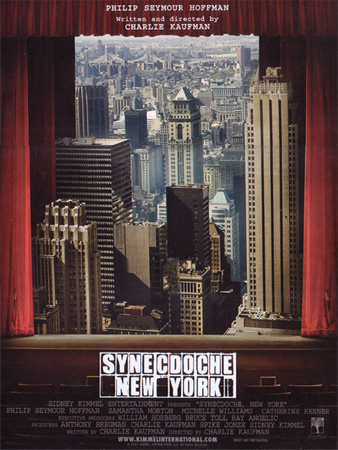 Here are three clips from the film:
And finally the issue of how to actually pronounce the film's title has been the subject of much speculation as this video from Variety's Mike Jones suggests:
Apparently the first word of the title is pronounced "Syn-ECK-duh-kee".
The film is probably going to get released in the US later this year.
> Watch the press conference at the official Cannes site
> Reuters report on the film from Cannes
> Synecdoche, New York at the IMDb