One of the in competition films getting a lot of buzz over the last couple of days has been Three Monkeys (Uc Maymun) which had a gala screening tonight.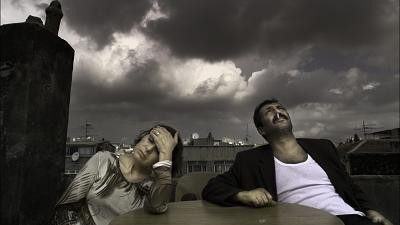 Directed by Nuri Bilge Ceylan (who made Uzak (Distant) in 2002 and Climates in 2006) it is a family drama about a politician (Ercan Kesal) who accidentally kills someone whilst out driving and manages to convince his lowly driver (Yavuz Bingol) to take the wrap.
The plot then thickens whilst the driver is in jail, with his wife (Hatice Aslan) and son (Ahmet Rifat Sungar) getting drawn into the web of deceit.
So far, the film has got several critics buzzing.
Jeffrey Wells of Hollywood Elsewhere thinks it is the first major film of the festival:
I was hooked from the get-go — gripped, fascinated. I was in a fairly excited state because I knew — I absolutely knew — I was seeing the first major film of the festival.

Three Monkeys is about focus and clarity in every sense of those terms, but it was mainly, for me, about stunning performances — minimalist acting that never pushes and begins and ends in the eyes who are quietly hurting every step of the way.
Geoff Andrew of Time Out urges people to see it:
This fifth feature is arguably the most ambitious film yet from the maker of 'Uzak' and 'Climates'.

It has the dry humour, assured pacing, astute psychological insights and sharp sense of moral and dramatic irony that has been conspicuous in all his [Nuri Bilge Ceylan] work…

…if you thought Ceylan's photographer's eye produced stunning images in 'Climates', 'Three Monkeys' pushes the envelope still further. It's been bought for the UK, so when it turns up, see it – and marvel!
Justin Chang of Variety is admiring, but has reservations about it's commercial prospects:
Seeing, hearing and speaking no evil comes all too easily to the tortured trio in 'Three Monkeys', a powerfully bleak family drama that leaves its characters' offenses largely offscreen but lingers with agonizing, drawn-out deliberation on the consequences.

But gripping as the film often is, its unrelenting doom and gloom offers fewer lasting rewards, making it unlikely to draw sizable arthouse crowds beyond the Turkish helmer's fanbase.
Michael Phillips of The Chicago Tribune is bowled over by the film:
…'Three Monkeys' offers the kind of artistry rare in contemporary cinema. Little details linger in the mind, such as a knife on a cutting board, tipping slightly in the breeze.

Ceylan gets wonderful suspense out of everyday things, such as a telltale cell phone ring-tone that wails to the tune of a vengeful Turkish pop ballad.

Most indelibly, the film's brief but brilliant depictions of the dead son grip the audience like nothing else so far in this year's Cannes festival.
Jonathan Romney of Screen Daily has one caveat in an otherwise admiring review:
The only cavil is that the pacing gets a little slack in the final stretches, and – while it's the nature of a Ceylan film to be slow-burning – the smallest amount of trimming could well turn an exceptional film into a near-perfect one.
Charles Ealy of The Austin Movie Blog is engrossed:
Remarkably enough, I was engrossed by "The Three Monkeys" from the very beginning. It's the best Ceylan film ever, not that such a comment will mean much to most people.

Ceylan's cinematography is wonderful, once again.
Pyramide International, the sales company for the film, has already sold it to several territories including France, Italy, England and Ireland, Switzerland, Holland, Belgium, Luxemburg, Greece, India and Russia and the Baltic States.
Here is the trailer:
> Official site for Three Monkeys
> Find out more about Nuri Bilge Ceylan at Wikipedia