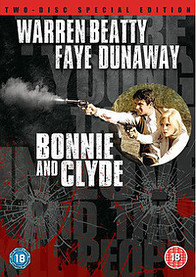 Warner Bros have finally got around to issuing a proper special edition of Bonnie and Clyde, the landmark gangster film that signalled the rise of New Hollywood.
Warren Beatty and Faye Dunaway star as Bonnie Parker and Clyde Barrow – the notorious bank robbers who cut a swathe through the US during the Great Depression.
A notable supporting cast includes Gene Hackman as Clyde's brother Buck and Estelle Parsons as his wife Blanche.
Although only partly based on the historical truth, director Arthur Penn and screenwriter Robert Benton created a film that ushered in a new era of mainstream filmmaking with a groundbreaking approach to morality, sex and violence.
At the time the film was hugely controversial for its graphic violence – it was one of the first to make heavy use of squibs – but in time would be seen as a turning point for mainstream films that followed, such as The French Connection and The Godfather.
Penn and Benton were heavily influenced by French New Wave directors like Francois Truffaut, who strangely enough was offered the chance to direct it before passing on it.
The film stands up well today and now has a decent set of extras to cmplement it. They include:
Revolution! The Making of Bonnie and Clyde. A behind the secen doc consisting of three sections:

Bonnie and Clyde's Gang (22 minutes)
The Reality and Myth of Bonnie and Clyde (24 minutes)
Releasing Bonnie and Clyde (18 minutes)

Love and Death: A History Channel documentary that explores the real life Bonnie and Clyde (43:13)
Warren Beatty Wardrobe Tests (07:39)
Two deleted scenes:

The Road To Mineola (2:06)
Outlaws (3:17)

Teaser and Theatrical Trailer
Check out the original trailer here:
Bonnie and Clyde is released today on DVD from Warner Home Video
> Buy Bonnie and Clyde from Amazon UK
> Bonnie and Clyde at the IMDb
> Reviews of Bonnie and Clyde at Metacritic