Photos of Woody Allen's latest film (as yet untitled) surfaced over at Just Jared recently.
They show Larry David and Evan Rachel Wood walking around Manhattan's Lower East Side, in what would appear to be a riff on the familiar Allen theme of a young woman dating an older guy.
However, check out the poster to the left of them in this picture: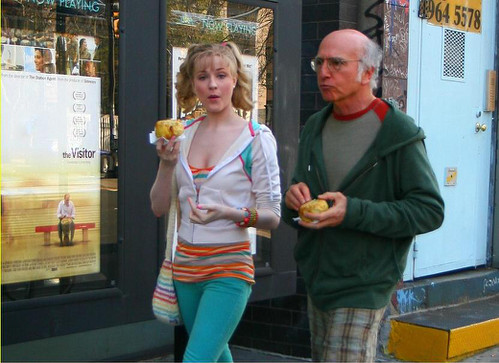 It is for Tom McCarthy's new film The Visitor – which we wrote about on Tuesday.
As Jeffrey Wells has pointed out, this is the second time in recent years that Allen has plugged another film in the background of one of his – there was a shot of The Motorcyle Diaries showing at the Curzon Mayfair in a scene in Match Point.
[Link via Hollywood Elsewhere]
> IMDb page for the Unitled Woody Allen Project
> Our first thoughts on The Visitor