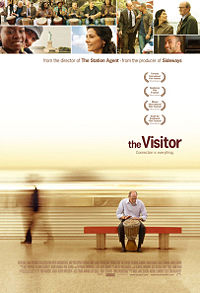 Tom McCarthy made one of the best films of 2003 with The Station Agent and his latest The Visitor is just as good.
The story involves a college professor (Richard Jenkins) who finds a young immigrant couple living in his New York apartment.
It then follows the characters as they connect with one another in unexpected ways.
Like his previous work, it is thoughtful, beautifully observed and features rounded characters who feel like people you might actually meet in real life.
Jenkins is a character actor you might recognise – he's probably best known for his fine work as Nathaniel Fisher in Six Feet Under or as the FBI agent in Flirting with Disaster.
Here he is finally given a lead role that allows him demonstrate his considerable acting skills and there is fine support too from Haaz Sleiman, Danai Jekesai Gurira and Hiam Abbass.
But what really makes this film stand out is the way it manages to tackle some really big themes with such intelligence and grace.
Immigration, loss and love are just a few of the issues dealt with here, but it never feels like a stodgy parable.
Instead, it manages to take us deep into the hearts and minds of people caught up in the chilly climate of a post-9/11 world.
It is one of those rare films that manages to engage your heart and brain, but does so with the subtle skill of a richly gifted director.
Check out the trailer here:
The Visitor is currently on limited release in the US and opens in the UK on July 4th
> Official site for The Visitor
> IMDb page
> Check out reviews of the film at Metacritic