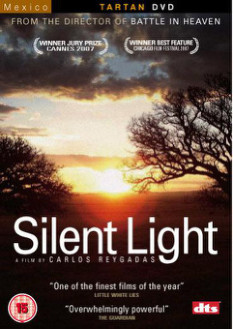 Silent Light is a hypnotic and beautifully crafted tale of forbidden love, set amongst the Mennonite community in Northern Mexico.
When I was in Cannes last year – about to see a film involving Nazi Vampires, believe it or not – I met a publicist who was working on the 'new film from Carlos Reygadas'.
On the train back to the hotel that night I noticed the review in Variety and was intrigued, although I wasn't a huge fan of his previous film, Battle in Heaven.
However, when I finally got round to seeing Silent Light in October I was hugely impressed by both the technique and mood Reygadas created.
The story involves a married man named Johan who defies the laws of his religious community by falling in love with another woman.
It then explores the impact this has on him, his family and the wider community.
Although, the slow pace and esoteric feel won't be for everyone, there is a rich sense of mystery to the world of the film.
The phrase 'dream-like' is often used in the wrong context but here it genuinely applies as Reygadas shows us a world that exists but seems so strange and distant – like the Amish, the Mennonites live by a strict code that eschews many aspects of modern life.
Using a cast of non-actors adds to this effect and if you give yourself up to the film, which is the polar opposite of how many mainstream films work in terms of narrative and editing, then you may find yourself basking in it's otherworldliness.
Perhaps in years to come it will be best remembered for its incredible opening and closing shots, which are a feast for the senses.
The extras on the DVD include:
A making of featurette about 30 minutes long
Interviews with some of the cast
Deleted scenes
Notes on the film by Jason Woods which help provide some insight into Reygadas and his methods
Sadly there is no commentary from the director by you can listen to an interview we did with him here back in October at the London Film Festival:
[audio:http://www.filmdetail.com/podcast/get.php?fla=podcast-2007-10-24-65220.mp3]
Silent Light is out now on DVD from Tartan
> Buy Silent Light on DVD from Amazon UK
> Download our interview with Carlos Reygadas as an MP3
> The official website for Silent Light
> Carlos Reygadas at the IMDb
> Manohla Dargis of the NY Times with her review of the film at Cannes
> Karina Longworth of Spout gives her take on the film
> Find out more about the Mennonites at Wikipedia